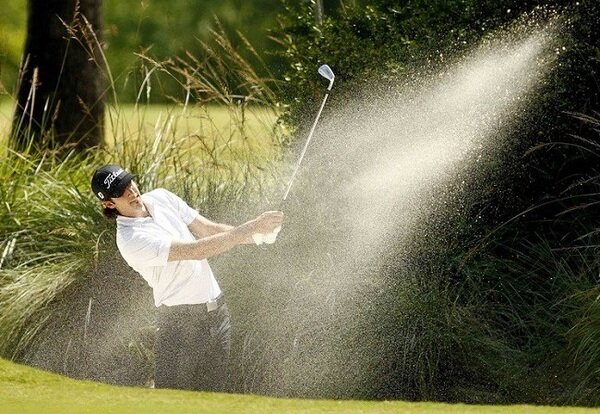 He took the DQ — and now his conscience is clear. Bravo, Cam.
On Monday, news broke about the highly unusual request by PGA Tour player Cameron Tringale to be disqualified from the 96th PGA Championship over the mere
perception
of a rules violation.
In follow-up stories by
Doug Ferguson
of the Associated Press and ESPN's
Bob Harig
, both Tringale and his Sunday playing partner, Matt Jones, explained what happened. In fact, Harig reports that it was Jones who actually asked about it before signing their scorecards:
"I asked him what he had on No. 11 because we all saw what happened," Jones said after his round Thursday at Ridgewood. "Did you not make a stroke at that ball? He said there was no intent and once a player says there is no intent to make a stroke, I just left it at that and I signed the scorecard.

"When a player says there is no intent, you have to take his credibility and trust him. And he doesn't have any type of reputation to think otherwise or question him for that."

Jones said he was surprised when he learned Tringale had disqualified himself. "I thought it was over and done with as soon as he signed his card," Jones said.
But obviously, the episode weighed heavily on Tringale's mind afterward — so much that he consulted both USGA and PGA of America rules officials:
"I started to kind of review my week and that came up in my head, is there is a doubt, if my playing competitor was doubting what that looked like. The more I thought about it, I didn't want the way I play this game or my integrity questioned. So I wrestled with it for Tuesday, spoke to some people, rules officials and stuff, just kind of walked through the events on that hole, and then eventually came to the decision that there's enough doubt that I want to take myself out.

"The more I played it out in my head — getting down the road, if I play well, I make it to East Lake [for the Tour Championship], would I have been there if I did take a 5? So I just felt like it was better to get it out and take myself out than to just be questioning and doubting and wondering for the rest of my life.

"The rules officials I spoke with said, 'Look, no one knows and it's your call. But you have to make a decision either way. It can't be, I'm not sure.' So, I was either out or I'm living with the question, and so I said I'll take a 5 and I'm out."
We also need to consider that Tringale's abundance of caution may also be an outgrowth of the avalanche of second-guessing following Tiger's "near as possible" drop at No. 15 at Augusta National during the third round of The Masters, on Saturday, April 13, 2013. Tringale might also have been thinking about Simon Dyson's DQ at the 2013 BMW Masters last October in China, which resulted in Dyson being fined £30,000 by the European Tour.
Whatever the case, Tringale absolutely did the right thing by reaching out to rules experts and the PGA of America staff in trying to sort out this episode. And now he can proceed with a clear conscience.
Read an interesting golf story? Tip Your Editor!
Image via Facebook, Cameron Tringale
AleaGlass says:
A new inquiry is explained for the coaching of different tools of life. The value of
papercoach
is very well described for the happiness of the citizens. The coaching of the highest order is instilled for the prisons.
6/13/19