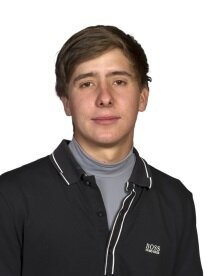 Amongst other things, Carlos Ortiz is the newest member of an elite fraternity on the PGA Tour.
On Sunday, the 23-year-old native of Guadalajara, Jalisco, Mexico became just the tenth man to earn a "battlefield promotion" to the PGA Tour. He did so by winning his third Web.com Tour event of the 2014 season, the
WinCo Foods Portland Open
, which was played on the notoriously difficult Witch Hollow course at
Pumpkin Ridge Golf Club
. Serious golf fans may know of Pumpkin Ridge as the site of two U.S. Women's Opens, the annual LPGA Safeway Classic, and the place where Tiger Woods won his third consecutive U.S. Amateur Championship, just hours before turning professional.
Given that the PGA Tour's regular season concluded in Greensboro one week ago; Ortiz will have to wait until the Frys.com Open in October before he can use his newly-earned status. But at least Ortiz got there the best way possible — by winning. In March, he won the Panama Claro Championship in Panama City, then captured the
El Bosque Mexico Championship
in April in his native country. And even though he missed four cuts in June and August, Ortiz never relinquished his top spot on the Web.com Tour money list after winning in Mexico on April 13.
Along with Ortiz,
goes for 24 other golfers
earned their 2015 PGA Tour cards on Sunday in Portland, by virtue of their position on the Web.com Tour money list. Among the more prominent names to make it to the Big Show are Alex Cejka, Blayne Barber, Jason Gore, 2013 NCAA Division I individual champion Max Homa, Ryan Armour, Argentina's Fabian Gomez, and Canadian Roger Sloan. Unlike those other 24, Ortiz is fully exempt on the PGA Tour in 2015 by virtue of his three victories. The others will have access to fewer PGA Tour events.
We are not going to predict that Ortiz will go out and set the PGA Tour on fire in 2015, but the former University of North Texas student-athlete deserves respect for having played his way onto the tour simply by winning. Certainly, Ortiz would love to become only the second native Mexican to win on the PGA Tour; Victor Regalado was the first and only golfer to do it when he won in Boston in 1974 and in the Quad Cities in 1978.
Read more
Read an interesting golf story? Tip Your Editor!
Image via Twitter
shubham says:
I like very much for this article and i want to make all user perfect by this
remember password
site sharing because if they do not they now they can read here about the cache
5/7/19
tenmez190 says:
Carlos is so talented. I really like him
soundcloud to mp3
10/1/19