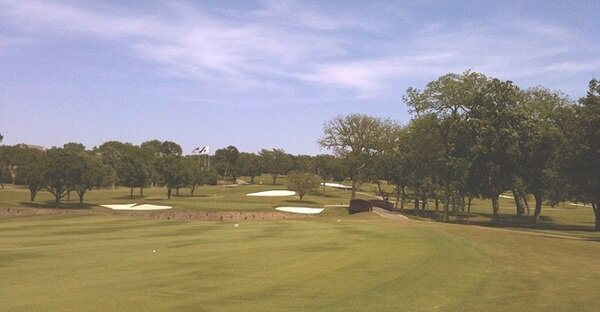 A tougher ticket than even Augusta National?
Jordan Spieth is not your average college-age kid. Before turning 18 years of age, he had won two USGA boys' Junior Amateur Championships and also made the cut at the PGA Tour's Byron Nelson Championship in 2010. As a college golfer, he played in the 2011 Walker Cup, then finished 21st (and low amateur) at the 2012 U.S. Open at Olympic in San Francisco. As a 19-year-old, he turned professional and, six months later, won the 2013 John Deere at the Quad Cities.
But for all his tremendous accomplishments, Jordan Spieth still had never gotten to play
Preston Trail Golf Club
in northern Dallas. Why?
Because he was not yet 21 years old.
The ultra-private club has several rules, among them a minimum age of 21 in order to play the course. And finally, the young Texan is 21, having celebrated the birthday on July 27. And clearly, he didn't have to think twice about accepting member Malcolm Holland's invitation to play as a guest. In fact, according to the AP's chief golf writer, Doug Ferguson, the club's superintendent prepared for Spieth by rolling the greens
twice
and planting many flagsticks in some of the toughest locations.
Spieth related the experience to Ferguson for a story published yesterday:
"Like a tour event without the rough. We [had] played 16 holes when the storms rolled in. I was at 6 under with a putt to go to 7. I was up a bunch of money and it washed all the bets. So I still haven't played 17 or 18. I told them the fact we didn't finish means we get another round."
Preston Trail is generally regarded as one of the top five courses in all of Texas. That speaks volumes when you consider that
SkyGolf 360
's database lists
over 900 courses in Texas
.
Elsewhere in his article, Ferguson relates the story about Byron Nelson, co-designer of Preston Trail (with architect Ralph Plummer) and Scott Verplank being prohibited from playing the course because, at the time, Verplank was only 17 years old. Eventually, Verplank gained membership at the club — which is impressive since membership is now capped at 250 men (women are not permitted).
Read more
Read an interesting golf article? Tip Your Editor!
Image via Matthew Sands
ahmedraza1001 says:
I propose merely very good along with reputable data, consequently visualize it:
바카라사이트
11/5/19