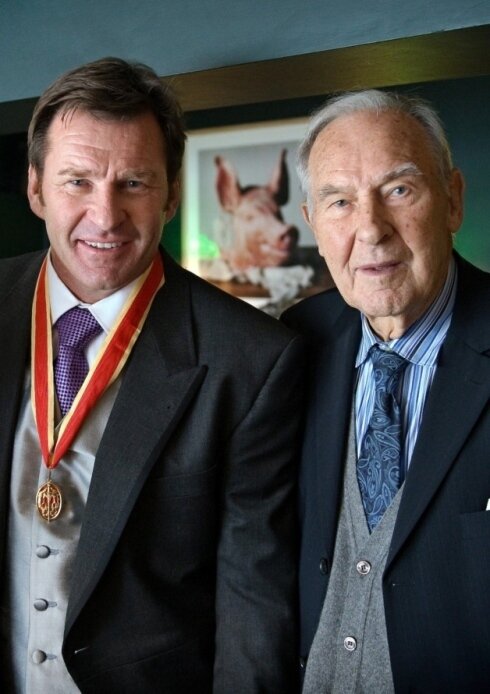 Sir Nick Faldo and his father, George Arthur Faldo (1926-2014)
George Arthur Faldo died on Tuesday, aged 88. The longtime resident of Welwyn Garden City in Hertfordshire, England, was the father of six-time major champion Sir Nick Faldo. On Tuesday, the golf hero described his father as "a gentleman and a gentle man." Faldo was also
quoted by the Welwyn Hatfield Times
thusly:
"He was an easy mark for a laugh and an easy mark for a tear, illustrating every day his own simple appreciation for the simplest moments in life. That, along with his own signature nod of his head and eternally outstretched hand to greet a visitor or a friend, will forever define the many memories I will hold close.

"Thanks, Dad, for everything. We took the most amazing journey together."
Indeed the
Times
noted that the senior Faldo was moved to tears when his son was knighted by Queen Elizabeth on November 10, 2009 at Windsor Castle.
Only about one hour later, Faldo
was named
the 2014 winner of the PGA Tour's Payne Stewart Award, which is presented each year to "a player who exemplifies Stewart's steadfast values of character, charity, and sportsmanship."
With Faldo remaining in England dealing with the death of his father and the impending funeral arrangements, his son Matthew attended the award ceremony in Atlanta on Tuesday. Nevertheless, Faldo took a few moments to offer his thanks to the Tour for the award:
"Payne was an entertainer with a twinkle in his eye who brought a unique combination of passion and intensity both on and off the course. I'm delighted to be recognized in the name of one who was a true individual, a one-of-a-kind personality in this game, and one who will always be remembered so fondly by his fellow players and golf fans around the world."
The Tour notes on their web site that in 1996 — the same year he won his third Masters and sixth major — he founded the
Faldo Series
(charity number 1102719) as a way for boys and girls age 12 to 21 to play competitively from a grass-roots level, as well as receive coaching and instruction. The program's outreach efforts are also squarely directed at teen-agers. The Tour reports that about 7,000 youngsters benefit annually from the Faldo Series, which hosts 40 tournaments in over 30 nations each year.
Among the golfers who have benefitted from the Faldo Series are four-time major champion Rory McIlroy of Northern Ireland and five-time major champion Yani Tseng of Taiwan. Other former students who play professionally and have won tournaments include Carly Booth, Nick Dougherty, Oliver Fisher, Florentyna Parker, Rashid Khan, John Parry, Melissa Reid, and Marc Warren.
The
Welwyn Hatfield Times
notes that anyone wishing to offer flowers or a similar memorial can contribute instead to Faldo's program:
The Faldo Series
19 Russell Street
Windsor, Berkshire SL4 1HQ
GREAT BRITAIN
Our sincere sympathy to Sir Nick, his mother Joyce, and his extended family.
Read an interesting golf article? Tip Your Editor!
Image via Welwyn Hatfield Times
CherylMinor says:
The subtraction is preferred for the simplicity of the solution. All the charges of the
www.assignmentgeek.com.au/discounts/
have been ensured for the induction for the reflections and all ideal parts for the individuals.
Friday