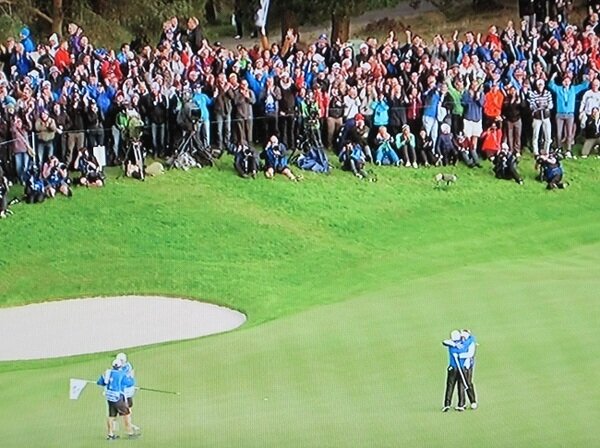 When Rory McIlroy and Sergio García halved their match,
the hills of Perth and Kinross shook with European cheers.
The unexpected heroes of the Friday morning four-balls were American rookies Jordan Spieth and Patrick Reed, having dispatched Ian Poulter and rookie Stephen Gallacher 5 & 4. But U.S. captain Tom Watson made the calculated decision to sit them in the afternoon, making sure that everyone had a chance to play on the first day. But before the Friday afternoon foursomes began, Watson promised Spieth and Reed that they would play again on Saturday.
In the meantime, Watson inserted Matt Kuchar, Jim Furyk, Hunter Mahan, and Zach Johnson for the afternoon foursomes — without success.
In the afternoon, the winds began gusting and the temperature dipped into the low teens Celsius (low 50s Fahrenheit), making some approach shots even trickier than they already would have been.
Friday afternoon foursome results

a.k.a. "alternate shot"

Match #

5

Jim Furyk
Matt Kuchar
2-up
Jamie Donaldson
Lee Westwood
The Americans got a 1-up lead with a par at the 3rd, but the 38-year-old Ryder cup rookie Donaldson and the veteran Westwood birdied the 6th to square the match, took a 1-up lead at the next hole, and never looked back.

With that, Europe picked off the first point of the afternoon, tying the score at 2½ to 2½ at 5:06 p.m. BST.

6

Hunter Mahan
Zach Johnson
2-up
Justin Rose
Henrik Stenson
Rose and Stenson jumped out to an early lead with birdies at the 1st and 6th holes. That forced Mahan and Johnson to play catch-up, which they did at the 7th (birdie) and 8th (par), keeping it close. After Rose and Stenson regained a 1-up lead, the Americans squared it again with a birdie at the 14th, but went 1-down with a bogey at the 15th.

Rose closed out the match with a par at the par-3 17th. At 5:23 p.m. BST, Rose and Stenson gave Europe the lead, 3½ to 2½.

7

Jimmy Walker
Rickie Fowler
Rory McIlroy
Sergio García
How much did the wind affect the golfers on Friday afternoon? At one point, García had to hit from a concrete sidewalk. Fowler found himself in a terrible lie in the left rough at 16, but lashed a fairway metal to about 12 feet beyond the flagstick. Some of the European fans had no choice but to applaud Fowler's heroic and carefully calculated shot. The Americans went 2-up with two to play.

Amazingly and despite hitting only three of 14 fairways, the Europeans gutted out a half-point when McIlroy drained a snaking 60-foot putt at the par-3 17th, then García's approach at the par-5 18th found the back of the green. McIlroy's eagle putt came up short, but the birdie was conceded. But after Walker's third from a bunker came up well short, Fowler mis-read the match-winning putt, leaving it short and left. At 6:09 p.m. BST, Europe's lead was now 4 to 3.

Afterward, Fowler said that the half-point didn't feel like a loss — but McIlroy said that their half-point felt like a victory.

8

Phil Mickelson
Keegan Bradley
3 & 2
Victor Dubuisson
Graeme McDowell
Watson stuck with Mickelson and Bradley as a pairing for the afternoon, but with cool temperatures and windy conditions, putting Mickelson out a second time may have been an unfortunate miscalculation. Afterward, Mickelson said he felt "out of energy" and stopped hitting good shots — and making putts.

The well-rested European duo of McDowell and Dubuisson won three of the first five holes and were 3-up after seven. And although the Americans won the 8th and 9th, two bogeys at 10 and 12 gave the Euros another 3-up lead. Dubuisson sank a long birdie at 16 to finish off Mickelson and Bradley.

Having captured all but a half-point in the afternoon, Europe took a 5 to 3 lead at 6:23 p.m. BST.

Minutes later, McDowell told at least one reporter that he feels that Dubuisson is European golf's next superstar. If his prediction is borne out, Dubuisson's presence at the 2018 Ryder Cup should help boost golf in France, since the matches will be played at Le Golf National in Guyancourt, France.




3




5
Through Friday, September 26

Keegan Bradley
1-1-0
0-0-1
Thomas Bjørn
Rickie Fowler
0-0-2
1-0-0
Jamie Donaldson (R)
Jim Furyk
0-1-0
1-0-0
Victor Dubuissson (R)
Zach Johnson
0-1-0
0-1-0
Stephen Gallacher (R)
Matt Kuchar
0-1-0
0-1-1
Sergio García
Hunter Mahan
0-1-0
0-0-1
Martin Kaymer
Phil Mickelson
1-1-0
1-0-0
Graeme McDowell
(R) Patrick Reed
1-0-0
0-1-1
Rory McIlroy
Webb Simpson
0-1-0
0-1-0
Ian Poulter
(R) Jordan Spieth
1-0-0
2-0-0
Justin Rose
(R) Jimmy Walker
0-0-2
2-0-0
Henrik Stenson
Bubba Watson
0-1-0
1-0-0
Lee Westwood
Keep in mind that 20 points are up for grabs over the next two days and that the Americans are only two behind Europe. But with the huge momentum shift in favor of Europe on Friday afternoon, it is not surprising that lots of second-guessing from Americans has already begun. Reporters at Gleneagles also piled on:
Read an interesting golf article? Tip your editor!
Photo by Torleif Sorenson
Inhalati says:
I have found all the important daily links on next tour news. The ryder cup weekly details are listed in
dissertation writing services uk reviews
sports club. They were all trying to maintain the values and essays.
9/27/18
Hardwork23 says:
If you are facing errors while
open my computer in windows 10
so you may take help of this portal which is known to be hub of information. Try out for once surely you will be having all useful information.
1/30/19