2014 Ryder Cup: Saturday Afternoon Foursomes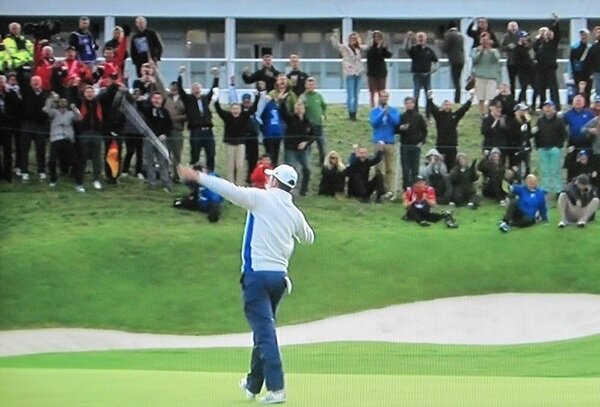 Justin Rose's birdie at 18 gave Europe all but a half-point on Saturday afternoon.
But did that putt also give them an insurmountable advantage for Sunday?
How good have the Europeans been in foursomes? As of Saturday evening, Sergio García's overall Ryder Cup foursomes record is 9-2-2.
After all eight morning four-ball matches at the 2014 Ryder Cup, the United States posted two consecutive days of 2½ to 1½ margins of victory over Team Europe. But after all of the eight afternoon foursome matches, the Europeans posted two consecutive days of 3½ to ½ points.
Saturday afternoon foursome results

a.k.a. "alternate shot"

Match #

13

Zach Johnson
Matt Kuchar
2 & 1
Jamie Donaldson
Lee Westwood
For the second consecutive afternoon foursomes, Team Europe captain Paul McGinley sent Jamie Donaldson and Lee Westwood to face an American duo that included Matt Kuchar, paired this time with Zach Johnson.

The 2007 Masters champion struck at the first hole by chipping in for birdie, but Westwood and Donaldson squared the match with a birdie at the par-5 2nd. The Americans won two holes at the 4th and 8th, only to give each one back at the next. Johnson got the U.S. back to 1-down at the driveable par-4 14th by calmly holing for eagle. But a birdie at the par-5 16th put them back to 2-down, with no recovery.

With the victory, Lee Westwood became tied with the great Arnold Palmer for fifth in career Ryder Cup points at 23. Only Sir Nick Faldo (25), Bernhard Langer (24), and Billy Casper and Colin Montgomerie (23½) remain ahead of Westwood, with the Sunday singles matches ahead tomorrow.

14

Jim Furyk
Hunter Mahan
3 & 2
Sergio García
Rory McIlroy
Both Sergio García and McIlroy have played heroically over the last two days, but it is interesting that their win over Furyk and Mahan was their first of the week, following two halves. They opened with a par and a birdie to go 2-up after two. They stumbled at the third with a bogey, but that was the only hole they lost all afternoon and still led 1-up. Both teams birdied the 6th and 10th holes, but when Rory poured in a five-footer for birdie at the driveable 14th, McIlroy and García were 2-up with four to play. At 5:36 p.m. BST, when Furyk could not save par at the 16th, he conceded to the dynamic duo, who did not hesitate to celebrate.

15

Jordan Spieth
Patrick Reed
Martin Kaymer
Justin Rose
After sitting out the Friday afternoon foursomes (against their wishes), U.S. rookies Spieth and Reed dispatched Thomas Bjørn and Kaymer 5 & 3 on Saturday morning. That was the portent for U.S. captain Tom Watson sending the two back out in the afternoon to face Kaymer and Justin Rose.

Indeed, Spieth and Reed proved to be the only pair standing in the way of a European sweep on this afternoon. The two teams were all-square after the 5th, but Spieth and Reed won the 6th with a European bogey and then their own birdie at the 7th.

After trading wins at 9 and 10, however, Rose and Kaymer righted the ship. At 12, Rose calmly saved par following an American miscue. At the par-4 15th, Reed missed a par-saver by two inches to give Kaymer the hole and to square the match.

But what happened at the par-5 16th hole shocked the Americans — and ultimately may prove to be the favorable turning point for Europe in this 40th Ryder Cup. Rose pulled his approach left and Kaymer somewhat foozled his third, giving Rose a long uphill putt for birdie, which he left four feet short. From a difficult spot in the right-side bunker, Reed blasted to about 12 feet, but Spieth pushed his birdie putt to the right. Kaymer surprisingly pushed his par-saver, then refused to concede a two-footer for par to Patrick Reed.

Kaymer's on-the-spot tactical move worked; at 5:14 p.m. BST, Reed's two-foot putt lipped out right to left, leaving him hunched over in despair for several seconds:

With a glorious scoring opportunity gone, Reed walked stunned to the par-3 17th with the match still all-square — and the atmosphere of the match irrevocably changed. Interestingly, Spieth's tee-shot at 17 just barely cleared a mound fronting the green, sliding to a stop just five feet from the flagstick. And when Rose's par-saver lurched left, he conceded the two-putt and gave the Americans another 1-up lead.

At the 18th tee-box, still steaming and visibly angry over his miscue at the 16th green, Reed unleashed a vicious drive, which came to a stop well down the left side of the fairway. But Kaymer, still smelling proverbial "blood in the water," calmly struck his tee-shot and put it five yards beyond Reed's drive. With a 1-up lead and a half-point guaranteed, Spieth then dumped his second into a green-side bunker — as did Rose. Reed, from a somewhat precarious angle, blasted to about 15 feet — hole high, but from a tricky angle. Also in the sand, Kaymer fared better, blasting to just six feet.

With his putter finally in his hands, Spieth pushed his 15-foot birdie attempt to the right. From six feet, Rose rammed home his six-foot birdie attempt to win the hole and capture the half-point that may wind up being the ultimate doom for the Americans on Sunday.

16

Jimmy Walker
Rickie Fowler
5 & 4
Victor Dubuisson
Graeme McDowell
Jimmy Walker and Rickie Fowler entered their Saturday afternoon match having gone all 18 holes in each of their first three matches — all of which ended in halves. After 54 pressure-cooker holes of golf in less than 36 hours, it was here that Walker and Fowler finally hit the wall.

McDowell and Dubuisson took advantage of an American bogey at the par-5 2nd, grabbing a 1-up lead with a birdie of their own — and never looked back. At 10 and 5-down, Walker was able to match Dubuisson with tee-shots to 18 inches at the par-3 10th, resulting in matching conceded birdies. Fowler then birdied the 11th to get back to 4-down. But Walker could not save par at the 13th, leaving the Americans dormie — 5-down with five to play. And although they matched birdies at the 14th, time ran out on the tired duo.




6




10
Through Saturday, September 27

Keegan Bradley
1-1-0
0-0-2
Thomas Bjørn
Rickie Fowler
0-1-3
2-1-0
Jamie Donaldson (R)
Jim Furyk
1-2-0
2-0-0
Victor Dubuissson (R)
Zach Johnson
0-2-0
0-1-0
Stephen Gallacher (R)
Matt Kuchar
0-3-0
1-1-1
Sergio García
Hunter Mahan
1-2-0
0-1-2
Martin Kaymer
Phil Mickelson
1-1-0
2-0-0
Graeme McDowell
(R) Patrick Reed
2-0-1
1-1-2
Rory McIlroy
Webb Simpson
0-1-0
0-1-1
Ian Poulter
(R) Jordan Spieth
2-0-1
3-0-1
Justin Rose
(R) Jimmy Walker
0-1-3
3-0-0
Henrik Stenson
Bubba Watson
0-2-0
2-1-0
Lee Westwood
After the Saturday afternoon session was over, the catcalls and caterwauling over Reed's missed putt erupted on Twitter:
Interestingly, something else erupted after the matches were over — smoke was seen coming from the clubhouse at Gleneagles shortly before 6:45 p.m. BST, forcing two fire trucks and firefighters to respond and have both teams to evacuate the clubhouse during team meetings. Less than 15 minutes later, firefighters confirmed that a small fire had erupted inside, but later claimed that the problem was a smoke alarm malfunction — this despite the fact that NBC clearly showed dark smoke wafting up from the attic of the building. (!)
The only player in this year's Ryder Cup who has not yet scored but even a half-point is rookie and wildcard selection Stephen Gallacher who, with Ian Poulter, lost 5 & 4 on Friday morning to Spieth and Reed.
The last two times that a Ryder Cup team held a 10-6 lead going into Sunday, that team lost. In 1999, the Americans roared back at The Country Club outside Boston. Two years ago at Medinah outside Chicago, it was the Americans who melted down and Team Europe took full advantage.
The United States could have been down just three-and-a-half points, but the turning point occurred when Reed lipped out his par-saver at 16. Was this also the ultimate turning point in the 2014 Ryder Cup? Tomorrow afternoon, we will know.
Read an interesting golf article? Tip your editor!
Photo by Torleif Sorenson
[ comments ]
Hardwork23 says:
If you are here to enjoy funny things so you may make use of this portal
uuuuu
which is known to be hub funny things and funny games too. Have a visit for once surely you will be loving it.
12/24/18
Osmond12 says:
The 2014 Ryder Cup was amazing, and I am glad that I was a part of it. I remember that most of my friends working at
essay tigers review
website said this cup event would not be good. I am glad they were wrong.
12/5/19
Osmond12 says:
If you are not a fan of the players in your Quarterback room, Cam Newton is the first player to look at. With the new player motion changes and RPO plays, mobile Quarterbacks will be better than ever. Combine that with his X-Factor ability "Freight Train," and you will have a dynamic rushing threat under center. Newton is the only player in the game with the Freight Trainability.
John Trapper Tice
12/19/19
Reve12 says:
No one is actually dead until the ripples they cause in the world die away. - Terry Pratchett
Obituary
12/31/19
Reve12 says:
Our highly specialized, professional and competent team is always geared up to assist you with any sort of document queries. Our agency offers a wide range of services to all European countries, American countries, Australia, most Asian, Middle East and African countries. Our clients benefit by getting personalized quality service that is beyond comparison.
buy real registered passport
1/2/20
Reve12 says:
Skönhetsklinik inom fillers, botoxoch microtoxin för finare hud. Din egna klinik i hjärtat av Göteborg.
fillers käklinje göteborg
1/2/20
Shayleen12 says:
I have ordered many stuff online and from this site as well. I once ordered a
gift
for a friend from this site and it turned out to be the perfect one. My friend loved it and the quality of it was just amazing, I really liked it.
1/19/20
Shayleen12 says:
Well, I am myself very good at ebroidery by hand but I am not veryy good at doing
custom patches
. I take orders but I don't do it in a custom way. I make the designs that I am only good at and I want to actually learn more.
1/28/20
[ post comment ]