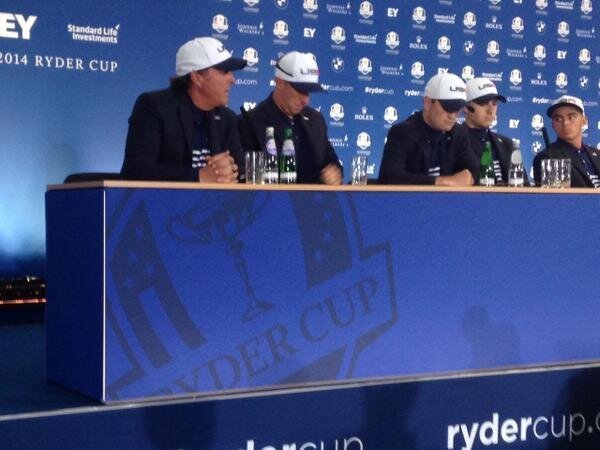 At the
formal press conference
following Team USA's loss to Europe at the 40th Ryder Cup on Sunday in Scotland, Phil Mickelson answered two questions with answers that sounded a lot like second-guessing his "anti-pod-ian" captain, Tom Watson:
QUESTION: Anyone that was on the team at Valhalla, can you put your finger on what worked in 2008 and what hasn't worked since?

PHIL MICKELSON: There were two things that allow us to play our best I think that Paul Azinger did, and one was he got everybody invested in the process. He got everybody invested in who they were going to play with, who the picks were going to be, who was going to be in their pod, who -- when they would play, and they had a great leader for each pod. In my case, we had Ray Floyd, and we hung out together and we were all invested in each other's play.

We were invested in picking Hunter that week; Anthony Kim and myself and Justin were in a pod, and we were involved on having Hunter be our guy to fill our pod. So we were invested in the process. And the other thing that Paul did really well was he had a great game plan for us, you know, how we were going to go about doing this. How we were going to go about playing together; golf ball, format, what we were going to do, if so-and-so is playing well, if so-and-so is not playing well, we had a real game plan. Those two things helped us bring out our best golf. And I think that, you know, we all do the best that we can and we're all trying our hardest, and I'm just looking back at what gave us the most success. Because we use that same process in The Presidents Cup and we do really well.

Unfortunately, we have strayed from a winning formula in 2008 for the last three Ryder Cups, and we need to consider maybe getting back to that formula that helped us play our best.

QUESTION: That felt like a pretty brutal destruction of the leadership that's gone on this week.

PHIL MICKELSON: Oh, I'm sorry you're taking it that way. I'm just talking about what Paul Azinger did to help us play our best. It's certainly -- I don't understand why you would take it that way. You asked me what I thought we should do going toward to bring our best golf out and I go back to when we played our best golf and try to replicate that formula.

QUESTION: That didn't happen this week?

PHIL MICKELSON: Uh (pausing) no. No, nobody here was in any decision. So, no.
Just two questions later, another reporter posed the issue to captain Watson who, like a true leader, attempted some diplomacy:
QUESTION: Can you tell us what you think of what Phil said about Paul Azinger?

TOM WATSON: I had a different philosophy as far as being a captain of this team. You know, it takes 12 players to win. It's not pods. It's 12 players. And I felt -- I based my decisions on -- yes, I did talk to the players, but my vice captains were very instrumental in making decisions as to whom to pair with. I had a different philosophy than Paul. I decided not to go that way. But I did have most of them play in the practice rounds together who played most of the time in the matches. I think that was the proper thing to do. Yes, I did mix-and-match a little bit from there, but again, you have to go with the evolution of the playing of the match and see who is playing the best and who to play with whom, and that's what I did.

QUESTION: Do you think that Phil was being disloyal, because it sounded like that?

TOM WATSON: Not at all. He has a difference of opinion. That's okay. My management philosophy is different than his.
Watson's impromptu attempt to diffuse the issue didn't work out so well, but that is not a reflection on him. Instead, tongues have been wagging and the Twitter-verse has been tweeting ever since — almost universally taking Mickelson apart for his comments.
What say
you
,
SkyGolf 360
members?
Read an interesting golf article? Tip Your Editor!
Image via Twitter
no comments posted yet.