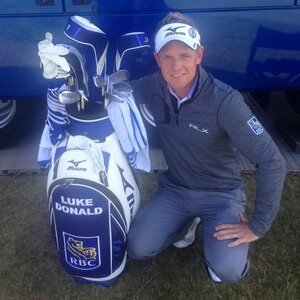 Luke Donald missed qualifying for the 2014 European Ryder Cup team and was not selected as a wildcard pick. And in a refreshing change from the Americans' disappointment at Gleneagles, Donald
told James Corrigan
of the UK
Telegraph
that he blames only himself:
"I could have been picked ahead of Lee, Stephen or Ian and feel I could have justified the wild card. But it was not anger directed at Paul or anyone, just at the fact I'd put myself in that situation.

"Let's face it, but for a few instances during the season, I would have qualified by right. If Matt Kuchar had not holed that bunker shot at the last to deny me the win at Hilton Head and if Rory [McIlroy] had not got on that birdie run on the back nine at Wentworth, I could have won there. All these things flash through your mind when you're trying to come to terms with it.

"But then, the last few months I did not play well at all and you realise you can't blame anyone but yourself. Not to say the disappointment didn't sit with me for a few weeks. It did."
So, what is the dashing Englishman doing about it?
For one, Donald has parted ways with instructor Chuck Cook and rejoined his old swing coach, Pat Goss, with whom Donald found a swing that gave him more success in the past:
"I lost sight of what made me successful. I focused too much on my what I perceived as my weakness and forgot about my strength, which is from 150 yards and in."
But Donald also faults his own mental approach:
"When I was No. 1, I probably wanted that major too much. I came close to winning majors under Pat but figured I needed to be a better ball-striker, figured there had to be an overhaul of the whole package.

"But I'm not a 'big picture' sort of guy. I prefer making small improvements each day. Pat understands that and for the first few weeks we didn't talk about swing, just did some really good work on my wedge play and putting. I'm ready to compete again."
If Donald (clearly a man of above-average intelligence) can recapture his former form, then look out, PGA Tour; your Renaissance Man may experience a renaissance on the course.
Have you seen an interesting golf story? Tell us about it!
Image via Twitter
no comments posted yet.