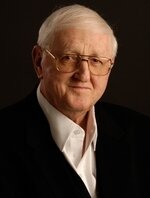 For the December 2014 issue of
Golf Digest
, longtime golf writer Dan Jenkins wrote something this writer has never seen at any other time in a major golf publication:
An imaginary interview
.
Jenkins has been a famous golf writer and columnist for decades and now serves as the "curmudgeon voice" of the magazine, injecting his own brand of humor into his columns. But for his December piece, Jenkins attempted to pounce upon Woods's extramarital affairs and perceived aloofness, penning an entire "interview" with Tiger Woods intended as a blend of humor, sarcasm, and creative writing.
Among the "tidbits" that Jenkins intended to make readers ROTFL is this knee-slapping sequence:
Why haven't you fired Steiny, by the way? You've fired everybody else. Three gurus, Butch, Hank and Sean Foley. Two caddies, Fluff and Stevie. Your first agent, Hughes Norton, who made you rich before you'd won anything. Other minions.
I'll probably get around to it.

I like to fire people. It gives me something to do when I'm not shaping my shots.

You must have fired Marko. Don't hear much about him these days.
Who?

Mark O'Meara. Your old buddy.
The name sounds familiar.
Woods fired right back at Jenkins and
Golf Digest
in this column on The Players' Tribune
, Derek Jeter's new web site:
I've given lots of interviews to journalists in all that time, more than I could count, and some have been good and some not so much. All athletes know that we will be under scrutiny from the media. But this concocted article was below the belt. Good-natured satire is one thing, but no fair-minded writer would put someone in the position of having to publicly deny that he mistreats his friends, takes pleasure in firing people, and stiffs on tips—and a lot of other slurs, too.

...

Golf Digest even hired an actor to pose as me in photos. The truth is, Jenkins has no idea how I think or feel about any of the things he claims to know about, which is why he had to make things up. Frustration or resentment because I have not been more available to him should not give him a license for an underhanded attack on me as an athlete, as a professional and as a person. I guess Golf Digest's editors believe this is a good way to sell more magazines. I'll bet their readers don't think so. Funny they didn't think this poorly of me when I worked with the magazine. I have to say I was surprised when I saw this piece came from Jenkins, who is one of the most distinguished golf writers out there.
Woods is dead-on correct
in faulting
Golf Digest
's editors, chiefly Jerry Tarde. For a magazine that has never posted a fake interview, let alone going to the trouble of hiring a Tiger-look-alike for the column, Tarde and his editorial staff stepped in it. That was below the belt, indeed. If they had resorted to cartoonish drawings,
perhaps
it might not have been so over-the-line.
Tiger's agent and his company VP, Mark Steinberg and Glenn Greenspan, respectively, sent a
letter to Chuck Townsend
, CEO of Conde Nast, corporate parent of
Golf Digest
: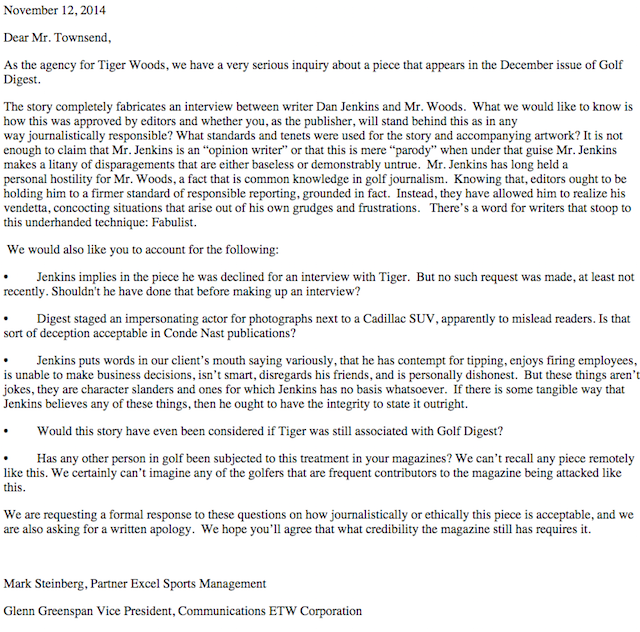 In this writer's opinion, Woods, Steinberg, and Greenspan are spot-on. Remember that earlier this year,
Golf Digest
editor Jerry Tarde signed off on putting beginning golfer / Los Angeles socialite / widely-reputed cocaine-abuser Paulina Gretzky on the May 2014 cover in a blatant cheesecake pose, in an obvious attempt to sell magazines and to re-brand itself as the more "lifestyle-conscious" golf publication: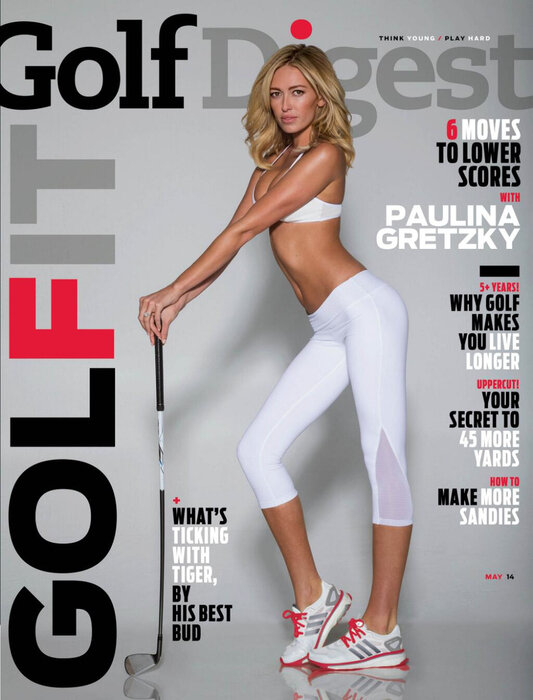 Tarde's decision came back to haunt him in a
firestorm of criticism
that came not just from LPGA players, but from across the worlds of golf and journalism.
In the case of Jenkins's latest column, Tarde must have deferred to Jenkins's stature as a established golf writer. But again, Tarde's editorial judgement has failed miserably.
And what is next for
Golf Digest
?
Will Dan Jenkins write an imaginary interview with Phil Mickelson about insider trading?


Will Dan Jenkins write an imaginary interview with Stacy Lewis purporting to show scars from her back surgery?


Will Dan Jenkins write an imaginary interview with the late University of North Florida women's golf team member Tess Huber, who died in a tragic plane crash last December? This writer can just imagine Jenkins posing this doozy: "Tess baby, how does it feel to face-plant into the instrument panel of a Cessna 310?"
While only one person in recorded history has ever been perfect, and people make mistakes all the time, Jenkins crossed the line here — and he should exercise better judgement. He needs to go back to the writing style he still does well — and ditch the Dan Ra
th
er / "method acting" school of journalism.
And we hope that Jerry Tarde, who has edited that magazine for a very long time, recommits himself and
Golf Digest
to avoiding any more ugly errors like these. At his age, he should have known better. Again.
Have you seen an interesting golf story? Tell us about it!
Images via Twitter, Kyle Porter
no comments posted yet.