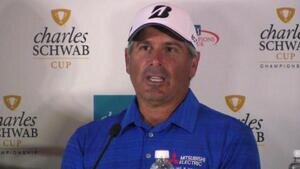 Count Fred Couples among those
still questioning
Tom Watson's benching of Phil Mickelson at the 2014 Ryder Cup:
"I'm not bashing Tom Watson, but sitting Mickelson, your best team player? Are you kidding me?"
Couples was asked about the Ryder Cup after giving a clinic for kids on Thursday at a new 6-hole golf course in Maricopa, Arizona.
Last month, Couples has also described the special 11-member Ryder Cup Task Force as "a little much." Whether this affects his chances of becoming the captain of the 2016 U.S. Ryder Cup team is not yet determined, but Couples played in five Ryder Cups, winning twice in 1991 and 1993, and tying in 1989.
Couples captained the U.S. Presidents Cup team three times, winning each time in 2009, 2011, and 2013.
Have you seen an interesting golf story? Tell us about it!
Image via Twitter
no comments posted yet.