Brother's wedding or Q-School?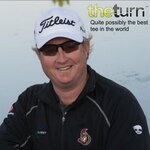 Brad Fritsch is a Canadian golfer who is competing in the final round of the Web.com Tour Q-School on Tuesday. At the start of final round play, Fritsch holds a five-shot lead on the rest of the field at PGA National in Florida.
But in order to participate in Q-School, Fritsch had to
skip his younger brother's wedding
this past Saturday in Ottawa, Ontario.
"This is my job for next year on the line, so I knew I had to be here and my brother understood completely. I called him to congratulate him yesterday morning and apologized for not being there," said the Edmonton native.
Fritsch's younger brother, Stephen, is a former touring player himself and now serves as Brad's agent. As long as the older brother can hold it together for 18 more holes, Fritsch will have his run of the 2015 Web.com Tour schedule at his disposal, with a decent chance of getting back his PGA Tour card for 2016.
Have you seen an interesting golf story? Tell us about it!
[ comments ]
Annabelle11 says:
Different people suggested the name of the school according to their experience. Now it is on you which school you like and take admission there. Yes, We should go with the best choice. However, I want
accounting homework help
and I have posted my question here and hopefully, I will get the answer very soon.
7/4/18
victoriazoey says:
In addition, your companion isn't mature enough for the PGA Tour. All Q School contestants "must be 18 years old or more seasoned to be qualified for enrollment" (source: 2009 PGA Tour player handbook)
Free Custom Essays Online
. He'd need to turn 18 preceding the first round of the last occasion on the accompanying season just to be permitted to play Q School.
8/10/18
colllectively says:
This is a game changer in every sense of the word, giving you the opportunity to unscramble words and
scrabble word finder words
solve anagrams a whole lot faster than you might have been able to all on your own.
9/18/18

AmandaJordan says:
Stock Exchange is a summary record and a regular arrangement of transactions for a period that affects a person,
Cheap Essay Writing Service Online
a type of property or a class of gains or losses.
11/16/18
christeenajohn says:
I really enjoy read this article and here I can find new data related to the game golf. Also, the experience of the expert in these games is shred. This kind of article makes us
windows 10 printing issues
inspiring and thanks for sharing this article.
12/21/18
Joekeery says:
Q-school is the famous qualifying interesting tournament for the every golf season.
5 Bucks Essay
,In 8 days in La Jolla, New York, it is supposed to be one of the best most stress-packed tournaments.
3/4/19
dibiyariya579 says:
What do you mean with your blog? I thought I could see some information about the wedding ceremony
find out this here
. I thought of seeing some photos of the wedding receptions. You haven't given any information about the topic. Update your blog.
3/26/19
supportnumber18 says:
Thanks for the information. To get the best tech help contact
geek squad tech support
4/9/19
supportnumber18 says:
Experts working at the geek squad tech support are amazing great in helping the customers with some of the best services. Reach these experts anytime and you would be helped for any issue you might face. So call the experts at
geek squad tech support
now and grab expert help.
4/9/19
supportnumber18 says:
Geek Squad Webroot
provides cyber security to protect you from phishing attacks, ransomware attacks etc. In case you are facing malware, viruses issue contact Geek Squad Webroot team for help.
4/19/19
[ post comment ]