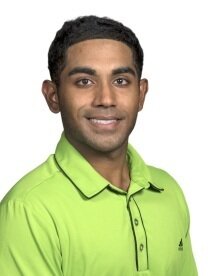 Bhavik Patel
is a native of Bakersfield, California and turned professional in 2012 after attending nearby Fresno State University.
He is in the news because he has been
suspended for one year
for violating the PGA Tour's anti-doping policy. Patek made the following comments in a statement released by the Tour and quoted by the Associated Press:
"In an effort to overcome an injury, I made a lapse of judgment. I regret my decision but have learned from the experience and look forward to returning to competition."
Patel's suspension is retroactive to October 7.
What is noteworthy about this story is not so much Patel's suspension, but the fact that the PGA Tour actually released the statement to the press at all. Commissioner Tim Finchem has taken a "hear no evil, speak no evil" approach to suspensions and has continued to deny that PGA Tour player Dustin Johnson was suspended (again) after testing positive for cocaine.
Of course, maintaining the Tour's "hear no evil, speak no evil" approach, the PGA Tour staff have spiked the story on their own web site.
Did you read an interesting golf article? Tell us about it!
Image via PGATour.com

bkuehn1952 says:
The PGA Tour announced the suspension? That would seem to indicate they have changed their policy, which is overdue but a good thing.
1/15/15

mustang6560 says:
They chose to make an example out of Bhavik Patel, not Dustin Johnson?
1/16/15

bkuehn1952 says:
Well, it has never been confirmed that Dustin Johnson was suspended. Also, if they changed the policy as of 1/1/2015 (or when the "New" season started), then DJ was prior to the change. Or, when given the choice of a leave of absence or suspension, Mr. Patel has more stones than DJ and told them, "I screwed up, suspend me and let's not play games with voluntarily taking a leave. I'll take my medicine." I give Bhavik some credit for just saying he made a mistake rather than trying to weasel out of it by claiming he was taking a prescribed drug, didn't know, blah blah blah.
1/16/15
RonaldSolano says:
A player should follow the rules. The
best essays uk
has also written an article about this issue. Every player should consider this as a lesson.
10/10/18
shubham says:
I like very much for this article and i want to make all user perfect by this
clear system cache windows 10
site sharing because if they do not they now they can read here about the cache memory.
11/26/18