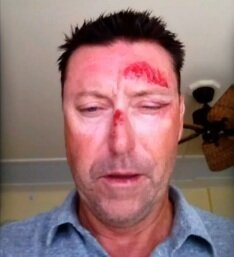 (Cue the appropriate sound effect...)
The mysterious mystery of Robert Allenby is becoming even more mysterious — almost by the hour.
NBC affiliate KHNL-DT in Honolulu
reports
that the Honolulu Police Department has
not
opened a kidnapping or assault case. They have reportedly opened a robbery case, however they say that they have no evidence of an actual robbery.
KHNL also says that a homeless man was caught on security video using Allenby's credit cards, which were reportedly used to by more than $10,000 of merchandise from stores in the Ward and Ala Moana areas of Honolulu. Among them is an Urban Outfitters and an ABC liquor store.
On Saturday,
we told you
about Allenby being reportedly kidnapped, mugged, and robbed. Then on Tuesday,
conflicting accounts
of what happened began to emerge. One homeless woman, identified as Charade Keane, said Tuesday that she found Allenby in a large planter across the street from Amuse Wine Bar — and not six miles away, as Allenby originally said.
Now, another homeless man (unidentified as of this writing) also says Allenby was passed out on the sidewalk across the street from the wine bar. The man says that Allenby fell, resulting in the facial injury pictured above.
A third homeless person,
identified by Deadspin
as Chris Khamis, said that Allenby "told him he had just come from a strip club and injured himself by falling and hitting a rock."
Law enforcement officials in Hawaii are "skeptical" of the story as Allenby has told it thus far. One unidentified police officer told KHNL the following:
"This isn't Mexico with bands of criminals running around kidnapping people. Besides, kidnapping someone and throwing him in the trunk of a car is an awful lot of effort to go through to steal his wallet, cash and iPhone."
Allenby currently is alone in reporting his version of the story. The television station also took care to note that giving law enforcement a false report in Hawaii is punishable by up to one year in prison and a maximum fine of $2,000.
For now, we will let Deadspin's Tom Ley have the last shot (pun intended):
Either all three of the witnesses who have come forward are lying and Allenby really was the victim of a well-executed kidnapping; or the man just got really drunk, went to a strip club, lost his wallet and phone, and then passed out face-first into a rock. One of these scenarios sounds much more plausible than the other.
Have you seen an interesting golf story? Tell us about it!
Image via Robert Allenby
no comments posted yet.