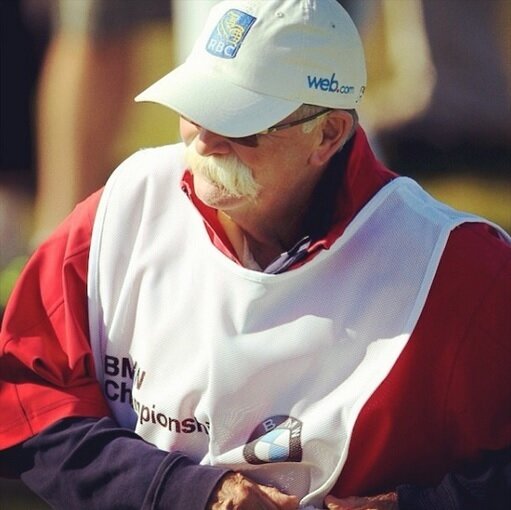 The corporate logo advertising on caddie bibs is one of the elements of a lawsuit by 80 professional tour caddies.
Mike Hicks, well-known as Payne Stewart's caddie before Stewart's tragic death in 1999, is one of approximately 80 caddies who have filed a federal class-action lawsuit against the PGA Tour. The issue is alleged violations of federal labor laws, as well as compensation for wearing caddie bibs that feature the logos and wordmarks of tournament sponsors.
In a
conversation
with Christian Red of the
New York Daily News
, Hicks described some of the problems professional tour caddies have encountered:
"The Tour has really been breaking labor laws for a long, long time, not providing the proper facilities, not providing a good working environment. We advertise every week for nothing in each one of these tournaments. The Tour will come back and tell you it's the trickle-down effect. But (caddies) are still treated like second-rate citizens on the Tour.

"Years ago, when I started caddying, we just wore this little smock with the player's name on the back. Then the Tour decided there was an avenue to make money with advertisements by putting the sponsor's name on the bib. Guys that are out there now realize they're getting the short end of the stick. No benefits. They can say what they want, but we are a part of the Tour.
Attorney
Eugene R. ("Gene") Egdorf
of
Lanier Law Firm
in Houston, Texas told the
Daily News
that Tour caddies have felt "a little reticent" about taking any legal action against the PGA Tour. But Egdorf said that after the caddies heard nothing but "no, no, no," he said the caddies had no other alternative. As far as any settlement talks go, Egdorf said that "if the PGA Tour wants to talk with me and have a discussion of what they're willing to do to fairly compensate these caddies and allow them to take care of their families,", he would listen.
But Egdorf is not banking on this; he also filed a motion for preliminary injunction against the PGA Tour, should the Tour decide to take some sort of punitive action against the tour caddies.
Not surprisingly, an unidentified spokesman for the PGA Tour said they have "a long-standing policy of not commenting on any pending litigation."
Among the caddies who are
not
actively participating in the lawsuit is Mike "Fluff" Cowan (pictured at top), who currently loops for 2003 United States Open champion Jim Furyk. Both Joe LaCava (Tiger Woods) and Jim "Bones" Mackay (Phil Mickelson) are reportedly supporting the lawsuit, but did not wish to be included in the class because they want to avoid distractions for their bosses.
Read an interesting golf article? Tell us about it!
Image via Instagram
rock3622 says:
Well you have to make easier to
open command prompt windows 10
service after using there present information, the all explanation are very helpful and fully free for everyone.
5/10/19
JasonMills says:
Caddies sue PGA Tour is going to be the best golf tournament ever and fans are eagerly waiting for this tournament to be started. One of the most interesting thing to do is to read
edubirdie reviews
online. Thanks for this excellent update. Hayes is going to be the best player as well.
2/25/20
ahmedraza1001 says:
At this point you'll find out what is important, it all gives a url to the appealing page:
바카라사이트
4/16/20
ahmedraza1001 says:
Great info! I recently came across your blog and have been reading along. I thought I would leave my first comment. I don't know what to say except that I have.
조루수술
4/23/20
ahmedraza1001 says:
Mmm.. estimable to be here in your report or notify, whatever, I repute I should moreover process strong for my have website want I play some salubrious further updated busy in your location.
안전놀이터
4/24/20
ahmedraza1001 says:
I came onto your blog while focusing just slightly submits. Nice strategy for next, I will be bookmarking at once seize your complete rises...
카지노사이트
4/30/20