Patrick Reed demands story retraction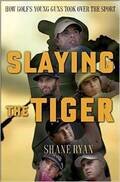 Early last month, we told you about a new book by author Shane Ryan called
Slaying the Tiger: A year inside the ropes on the new PGA Tour
. The story includes
pre-release excerpts
from some of tour player Patrick Reed's behavior in college. Sources told Ryan stories of Reed stealing golf clubs and cash from at least one teammate, and cheating during qualifying events.
Now, Reed said he was dismissed from the University of Georgia men's golf team for "a pair of drinking episodes." Reports elsewhere say that Reed was expelled from the university.
Golf Channel's Todd Lewis has interviewed Reed, who says he will ask Ballantine Books for a retraction and to print what he calls "the right facts":
Reed's comments are interesting, since
he and his wife answered questions from Ryan
last July.
Given Reed's new version of the story, Ryan has fired right back via Twitter:
We also wish to reiterate that Ryan released the Patrick Reed story excerpts on his web site before the book is released on June 9 because at least one other writer/reporter was preparing to break the same story elsewhere.
Also noteworthy is that the publisher, Ballantine Books, has been in business since 1952. We would be amazed if Ballantine's senior leadership and in-house counsel did not vet Mr. Ryan's story before committing to publication.
Indeed, the story appears to be far from over. Stay tuned.
Have you seen an interesting golf story? Tell us about it!
[ comments ]

bkuehn1952 says:
I do not know Patrick Reed or Shane Ryan. Patrick Reed comes across as a very difficult personality. Shane Ryan comes across as a snake. Citing anonymous sources and "multiple" unnamed sources, he really did a number on Mr. Reed. The "facts" coming out of the Georgia Golf Team sounds like a group of college kids who disliked a teammate and were more than willing to accuse him of wrong doing without a shred of evidence. The incident cited where Reed was about to hit the wrong ball sounds like they are really reaching.
Trying to ruin someone's reputation for a monetary payoff is really low.
3/11/15
GBOGEY says:
I saw once where Reed admitted that he wasn't a popular teammate, at least initially, for good reason, but he also said he had learned from the process. All the same, I find it hard to believe that you can publish something so damning without a source.
3/12/15

bkuehn1952 says:
Here is the description of a "cheating" episode:
"During a qualifying round prior to a tournament, according to sources, Reed hit a ball far into the rough. When he approached the spot, he found another ball sitting closer to the fairway, and was preparing to hit it when several of his teammates confronted him. Reed pled ignorance, but the other Georgia players were convinced he had been caught red-handed trying to cheat."
Frankly, based on the description, the only thing he was guilty of was almost playing a wrong ball. It sounds like his Georgia teammates wanted to spite the guy they all disliked.
3/12/15

bkuehn1952 says:
The "Stealing" episode:
"That same fall, several items went missing from the Georgia locker room, including a watch, a Scotty Cameron putter, and $400 cash. When Reed showed up the next day with a large wad of cash, sources say a teammate confronted him and asked how he'd come by the money. Reed said he'd played golf with a professor at the school and hustled him out of the cash. The player in question took this claim to the professor, who had no idea what he was talking about—it had been weeks since the man had played with Reed."
Right, like the professor was going to admit he was gambling with a student. Also, other than Reed having some cash, what proof did anyone have he stole items. Maybe if they found him with the putter or saw that he listed a putter on eBay a case could be made. This entire story revolves around a single unnamed golfer's accusation. A golfer who admittedly despises Reed.
3/12/15

bkuehn1952 says:
Finally, my bet is that Shane Ryan ambushed Reed at the interview. "Hey Patrick, I would like to interview you for my book about rising stars of the PGA"
Ryan makes a big deal about Reed acting nervous and evasive in the interview. Well, if someone asked to interview me about my insurance career but then started asking questions about my drinking and academic work in college, I might act a bit shifty, too. Especially if I am sitting next to my wife who probably doesn't know much about that period of my life.
Ambush interview, anonymous sources, unnamed sources, biased sources, revealing incidents in their worst light. All in order to spice up a book that likely wasn't going to sell more than a few dozen copies.
3/12/15
caroldriscoll33 says:
Could no one locate parents to interview to
do my homework for me online
? I'd be interested to hear from parents whose students are accused of discipline issues. This article makes it appear as if everything stems from inside school buildings. It's not that simple. It's never that simple.
8/13/18
[ post comment ]