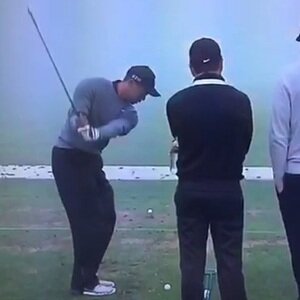 Tiger Woods is reportedly a "50-50" possibility be at the first tee of Augusta National Golf Club when the 79th Masters Tournament begins on Thursday, April 9.
NBC Sports and Golf Channel analyst Notah Begay III
gave an interview
with Scott Rude at 120sports.com.
Said Notah:
"I think his golf game as a whole is in a great place. I think it was good for him to take a step back, to reassess a variety of different things and do things on his timeline. I think that's extremely important. It's easy to get bullied into trying to acquiesce to the media's concerns, or the PGA Tour's concerns, or other people's agendas.

"My suggestion to him was to take as much time as he needed to just figure out this issue with his short game and also to work on or clean up a couple of things that might be a little loose with his golf swing. Any transition, any change that you're making mechanically, takes a little time to settle. So, that's what he's done. And I think things are really settling. We've had some good discussions over the last week or so and he feels good about it.

"As far as Augusta is concerned, I don't really know. It's literally a 50-50 chance, right now, from what I can tell. But I think that's far better odds than what it was, say, three weeks ago. Three weeks ago, I would have said maybe there's a one in ten chance of him playing at Augusta."
Rude then asked what has changed in recent weeks:
Well, just some steady improvement. I don't know that there was any one thing specific that you can say that a player looks at, but it's simply something that a player feels when they step on a golf course, and they feel like they can go out there and basically defend themselves [sic]. That's what it's all about. You're going to deal with challenges every day. Sometimes it's mechanical, sometimes it's obstacles on the course, sometimes it's gallery. I mean, you just never know where it's gonna come from. (If) a player feels like they can do what they want, then, uh, they can go out and play."
Woods is now ranked 96th in the Official World Golf Ranking, following two disappointing (to say the least) outings in January in Los Angeles and Phoenix.
Nevertheless, United States 2016 Ryder Cup captain Davis Love III told Mark Chapman of BBC Radio 5 that Woods is trying to qualify for the 2016 team:
"I wouldn't count him out quite yet."
Neither will this writer... quite yet. But the overwhelming problem is that Woods won his last major championship at the 2008 U.S. Open, famously defeating Rocco Mediate in a playoff on a broken leg. Since then, he has not come close in a major. Woods didn't even qualify for the 2014 Ryder Cup, and at the
Meltdown at Medinah
, Woods went 0-3-1 for the week, coughing up the last half-point on a missed par putt at the 18th green.
Does Woods have what it takes to come all the way back one last time? We will see. But the statistics are not trending in his favor.
Have you seen an interesting golf story? Tell us about it!
no comments posted yet.