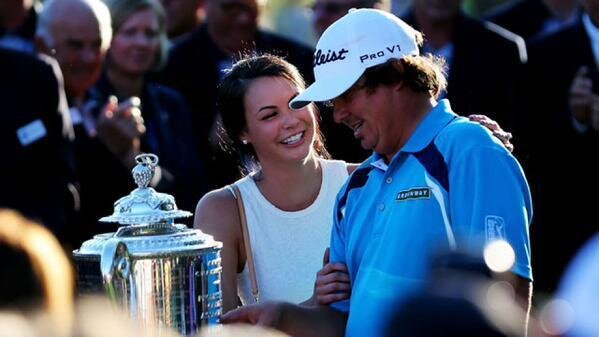 When we first saw this headline, we honestly thought this was an elaborate April Fool's joke. But
Rex Hoggard's story
was datelined yesterday afternoon.
The Dufners were married on May 5, 2012; court documents indicate that the two separated on February 17, 2015 and that Amanda Dufner filed on March 16. Hoggard reports that "there had been an 'irretrievable breakdown of the marriage' and there was 'a complete incompatibility of temperament that the parties can no longer live together.'"
In his report, Hoggard also said that Amanda will receive $2.5 million, while Jason will keep two houses in Auburn, Alabama — one of which is under construction on a 46-acre parcel of land. Neither Amanda Dufner's attorney nor Jason Dufner's representatives at IMG Golf commented on Tuesday.
In a sign of the Internet age, Jason Dufner has changed his avatar and cover photo on his Twitter account, while Amanda Dufner has reportedly deactivated her Instagram account.
As for the business at hand, Dufner's next scheduled start is at the Masters Tournament, April 9-12 in Augusta, Georgia.
Have you seen an interesting golf story? Tell us about it!
Image via Twitter

bkuehn1952 says:
They did appear to be somewhat the "odd couple" but that can be said about a lot of us, including me and my truly better half.
4/1/15

Torleif Sorenson says:
NBEB: I'm genuinely happy that you have a "better half." There are plenty of times when my solitude is not particularly welcome.
4/1/15
GBOGEY says:
Didn't see this coming based upon how they appeared to have pictures of their vacation fun on golf websites weekly.
4/1/15