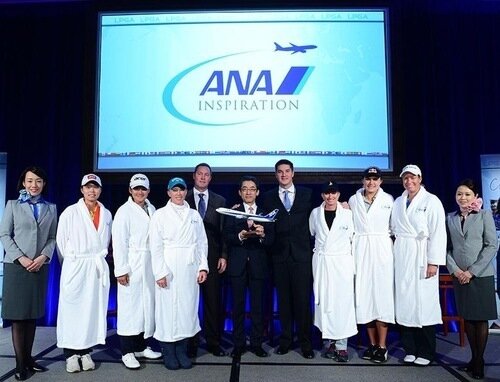 Golf's first professional major championship of 2015 teed off this morning at
Mission Hills Country Club
in Rancho Mirage, California — as it has for 42 years. Originally known as the Dinah Shore Winner's Circle and most recently as the Kraft Nabisco Championship, the renamed
ANA Inspiration
will feature all of the traditional elements of this major, including the winner's leap into Poppie's Pond.
On the men's side, the Masters Tournament green jacket has not changed at all since it was introduced in the 1950s.
But when Michael Whan and the LPGA asked title sponsor
All Nippon Airways
to do something special with the winner's robe, the airline's senior management wasted no time drawing on some traditional Japanese clothing traditions to make something special out of the new winner's robe:
We still would have like to have seen Dinah Shore represented on the robe, but you cannot win them all.
One youngster who will surely be inspired this week is 16-year-old Haley Moore of Escondido, California. She won the SCGA's ANA Inspiration Champions Junior Challenge, thereby earning a spot in the tournament:
For several strategic and tactical reasons, the LPGA's new partnership with All Nippon Airways is a smart choice, starting with the fact that both are international brands that want to expand their footprint and presence in North America, not merely in the Pacific Rim. The airline has 31 international code-sharing agreements and flights to 40 international destinations.
The partnership with ANA is one more step away from what could be considered "old-fashioned" marketing of women's professional golf.
Television coverage in the United States will be on Golf Channel. On Thursday and Friday, the telecasts will be from 12:00 p.m. to 3:00 p.m. EDT, then again from 6:00 p.m. to 9:00 p.m. EDT. On Saturday and Sunday, Golf Channel will televise from 5:00 p.m. to 9:00 p.m. EDT.
Current leaderboard
Have you seen an interesting golf story? Tell us about it!
Image via ANA Inspiration
no comments posted yet.