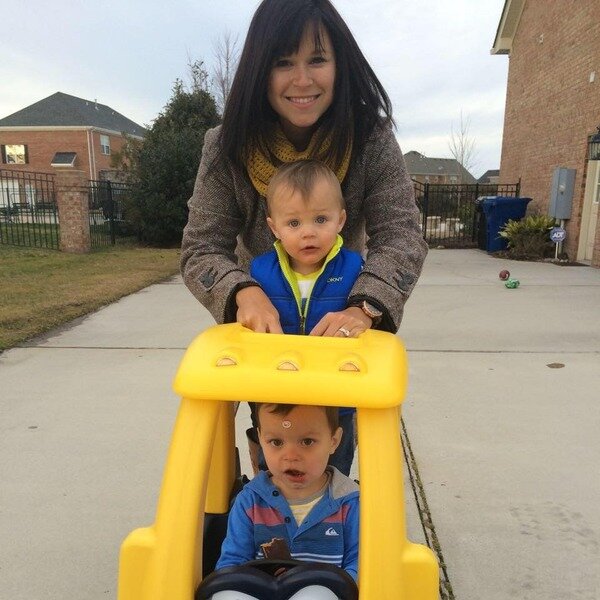 Audrey Leishman and her PGA Tour star-husband have two monumentally cute sons, Harvey and Oliver.
Audrey Leishman, the wife of PGA Tour player Marc Leishman, is in a Virginia Beach-area hospital, according to
The Age
and to
PGATour.com writer Brian Wacker
.
Mrs. Leishman is reported to have visited an urgent care on Tuesday evening for what was thought to be a case of the flu. But doctors have placed her in an induced coma to battle pneumonia and to try to "pinpoint other serious infections."
In a conversation with the Australian Associated Press, Leishman said:
"Our family appreciates everyone's thoughts and concerns. We ask that everyone respect our privacy through this difficult period. Please keep Audrey in your prayers."
Understandably, everything else Marc Leishman might have had on his schedule has gone by the wayside. This could very well including the 79th Masters Tournament, which begins one week from today. Leishman qualified for the Masters this year by virtue of being in the top 50 on the Official World Golf Ranking on December 31, 2014. Leishman currently ranks 55th, in part because of his T-5 at the Open Championship last July.
Mrs. Leishman's illness is most unwelcome news; we at SkyGolf obviously hope and pray for the best for Audrey Leishman and for the entire medical staff taking care of her.
Have you seen an interesting golf story? Tell us about it!
Image via Facebook

bkuehn1952 says:
I have seen the headlines about this sad situation in a number of places. No offense against headline writers but it seems rather uncaring to mention a woman in a coma and pair it with a possible withdrawal from the Masters. A simple "Wife of Pro Golfer Marc Leishman Seriously Ill" probably would suffice. Anyone interested in golf knows the Masters is coming up and can figure out Marc Leishman is not going to play golf while his wife is in danger.
I can see the headline in our community rag some day: "Bill Earle Dies Suddenly, Wife May Miss Gardening Club Meeting"
4/3/15
srogers13 says:
You really think she is going to miss the meeting because of you?
4/3/15

Torleif Sorenson says:
NBEB: Some people in our audience are not aware of Marc Leishman. Having said that, your point is quite valid and noted.
4/3/15

bkuehn1952 says:
Tor - not directed at you. Every publication headlines it in a similar fashion and undoubtedly my view is not shared by more than a handful of people.
srogers13 - Good point. I will need to make sure I pass on a Tuesday when nothing important is scheduled! ;)
4/3/15

MSchad says:
Good news; She is out of the coma now.
4/6/15