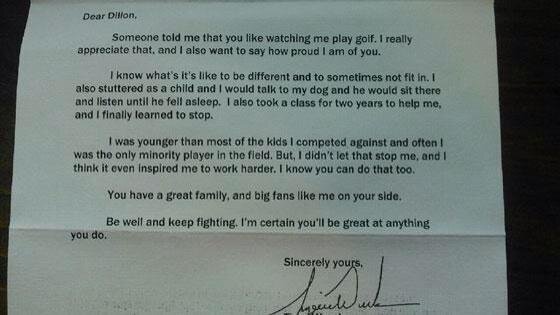 For our readers
Being a teenager is tough. Being a teenager with a stuttering, stammering, neurophysiological, physical, or even an autism spectrum problem, can be sheer hell.
Swedish golf heroine Sophie Gustafson knows it too well; she has battled through a lifelong stuttering issue and rarely talks to the media. But that has not stopped her from succeeding as a touring professional with five LPGA wins, 16 LET victories (6th-most), and eight others worldwide.
Recently,
Golf Digest
writer Ron Sirak
shared her story
about reaching out to a teenager named Dillon, who has been bullied by other high school students over his stutter — to the point where Dillon attempted to commit suicide, but was stopped by his parents.
When
word reached Tiger Woods
that Dillon is a big fan of his, Woods and his team reacted quickly. The letter from Tiger to Dillon (
above
) became public this week — and it tells you everything you need to know.
To Ron Sirak, Sophie Gustafson, and Tiger Woods, we offer a hearty tip of the hat to you. Thanks for standing tall on behalf of Dillon.
Dillon, if you read this...
Dillon, we know how unspeakably cruel some kids can be to other kids. Screw them — they are not your friends and they don't deserve your time and energy. Your real friends (just like your parents) are the ones who will have your back and offer kind words and help to you through the darkest times.
And because of
Tiger Woods
,
Sophie Gustafson
, and
Ron Sirak
, we at SkyGolf, our customers and readers, and countless golf fans around the world are now on your side, too. You have thousands upon countless thousands of people hoping you succeed at whatever you choose to do — it doesn't matter how much you overcome the stutter. (But we will be happy if that happens, too.)
In fact, you now have more people around the world on
your
side than those monsters at your high school ever will.
We read about the football team tryout. The kids on the team who taunted you, rather than helped and included you, are the failures. Football is a team game. Every player needs to be on the same page. The guys who tortured you into leaving the team are the failures and losers — not you.
They
failed because they chose to not work together with you in a team sport.
Dillon, each of us across the world of golf may not be
directly
able to do anything practical to help you tackle stuttering, or keep those worthless punks at school from taunting you. But you
are
a golf fan. You
are
now one of us. If you can do well with classes and grades while you're in high school, you will find out afterward that a bunch of people you haven't yet met may be happy to help you along the way and prosper — perhaps just because you are a golf fan, like they are.
The cruelty you have suffered at school will not last much longer. Better times are ahead, we promise you. We don't know how much you will be able to overcome the stutter. We hope you do, but that is not a condition of our encouraging and supporting you.
Dillon
, we in the world of golf want you to understand that
we have your back
— not just your parents, not just the friends you can trust, not just Tiger Woods and Sophie Gustafson and Ron Sirak. Countless golfers and golf fans everywhere should welcome you every time you set foot on a course, in a clubhouse, or in a golf store.
This is because golf is a game of honesty and integrity. We wouldn't have it any other way.
Have you seen an interesting golf story? Tell us about it!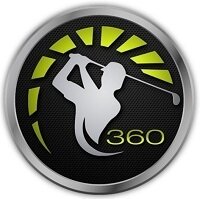 Luke ones says:
The ascertainment of the goal is done for the humans. The handled item and
professional college paper writers
are induced with the help of the purely followed items for the candidates and all individuals.
10/27/18