Don't Cry For Him, Argentinaaaaa...
Fabián Gómez
, a native of northeastern Argentina, will
not
get to play in the U.S. Open this week at Chambers Bay. But don't cry for him, people, because on Sunday afternoon, in his 70th career PGA Tour event, he earned exactly what he needed right now:
A victory and a two-year PGA Tour exemption
.
It was not by a small margin, either. Gómez shot 66-68-67-66 = 267 (-13) to defeat Englishman Greg Owen by four shots at the FedEx St. Jude Classic at TPC Southwind in Memphis. Phil Mickelson, Seung-Yul Noh, Michael Thompson, Matt Jones, and Brooks Koepka finished in a log-jam for third, five adrift of Gómez.
The 36-year-old Argentinian finished as steady as he started, but impressed with a birdie at the par-3 11th, swashed out of a green-side bunker at the par-5 16th for another birdie, and then drained a long one at the final hole for an exclamation point. Along the way, he hit 10 of 14 fairways — nothing to sneeze at.
To win in this way must be tremendously gratifying for Gómez; he has bounced back-and-forth between the PGA Tour and the AAA-circuit. In 2010, he won the Nationwide Tour's Chitimacha Louisiana Open and got his 2011 PGA Tour card. But with only one top-ten and two top-20 finishes, he returned to the minor league tour in 2012, where he finished the year 55th on the money list and 10th at Q-School. That got him back to the PGA Tour for 2013 — but he finished the year 133rd on the money list, so it was back to the
Nationwide
Web.com Tour. Three top-ten finishes and being 23rd on the money list got him back to the PGA Tour for a third time this year.
And now, Fabián Gómez has what he needed most right now — his PGA Tour playing privileges through the 2017 season.
Surely, the $1,000,000+ winner's check is awesome. And he's now in the 2015 PGA Championship at Whistling Straits, the 2016 Masters Tournament, and the rest of the PGA Tour's most important events. But job security is a huge thing — and now Gómez has it and can avoid the minor-league thing for a few years.
Understandably, American reporters who questioned Gómez after his victory referenced Argentina's three most famous golfers who preceded him in victory: 1967 Open Champion Roberto De Vicenzo, senior tour star Vicente Fernández, and two-time major champion Ángel Cabrera. And while Gómez acknowledged them, he still seem most overwhelmed with the victory. In an interview through his agent and translator, he pointed it out:
"Winning a tournament is a big difference. You have a two-year exemption."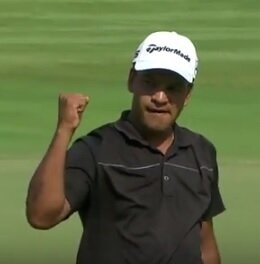 ________
For his part, the second-place finisher Greg Owen had a week the rest of us would be happy to have just once in our respective lifetimes. He shot 64-70-67-70 = 271 (-9). The Englishman birdied the par-5 3rd hole, then notched a birdie at 7 after missing the fairway to the right. But bogeys at 9, 13, and 14 soiled his card.
Owen still played awfully well and acknowledged that while this week was a success, he still isn't satisfied:
"[Gómez] played great. He deserved to win. I played great the first eight holes and then hit some rocky shots. Guys are so good, you can't play average. I've got some work to do.

"Look at my record this year and last year and the year before and two years before that. Yeah, definitely big success. Disappointed today, but I can relax knowing I've still got it.

"To win you've got to be special. Fabian proved that."
Have you seen an interesting golf story? Tell us about it!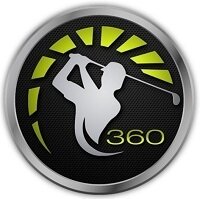 bkuehn1952 says:
Wonder how many of us had Mr. Gómez on our Fantasy Golf roster? He joins a long line of winners this year to which I typically say, "Who???"
6/15/15

Torleif Sorenson says:
I thought with the "new path to the PGA Tour" and changes to Q-School that it would be harder for some guys to break through. Major kudos to Fabián Gómez, Ben Martin, Robert Streb, Nick Taylor (O Canadaaaa....), Brooks Koep[ka, James Hahn, and Sweden's David Lingmerth for proving that idea wrong.
6/15/15

Torleif Sorenson says:
...and I have *not* forgotten about Alex Čejka, but the guy has won four times on the Euro Tour, including the Volvo Masters in 1995. He's already a well-known quantity.
6/15/15
Thoseen50 says:
Atmosphere changes impose consequences for the states of mind of individuals of a region so all things considered data about the changing states of climate is turned out to be essential with the goal
essay tigers reviews
that well being measures ought to be taken so as to meet the sudden happenings.
6/15/18
rishav says:
Users facing problem regarding no sound in windows 10 can now easily get help from
find fix audio problems
to troubleshoot and fix the problem by their own.
7/17/18
rana56r says:
Sonic is one of the fast food restaurant chains in the United States. Its menu consists of hamburgers and French fries, as well as onion rings, corn dogs, chili dogs.
talktosonic
|
www.talktosonic.com
10/30/18