2015 U.S. Open: And so it begins...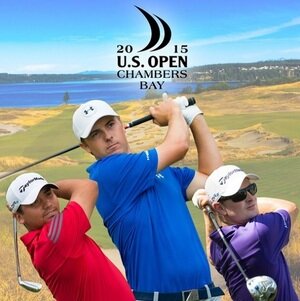 After stepping onto the first tee at 7:00 a.m. PD at Chambers Bay Golf Course, Michael Putnam (who grew up right there in University Place, Washington) struck the first tee-shot of the 115th United States Open Championship — and walked off the first green with a bogey.
(We are certain that Mike Davis was probably secretly satisfied with that.)
The world's preeminent national championship is underway.
The first birdie
came from American Cody Gribble, one of Jordan Spieth's University of Texas golf teammates. Gribble is in the fifth group.
The first bogey
came from American Josh Persons, who triple-bogeyed the 10th hole, which is where his round started. (We send our sympathy and a proverbial bottle of Bactine™ to Josh.)
Notable groupings
All times PDT. World Golf Ranking in parentheses.
GROUP 7, 7:33 a.m. (1): Phil Mickelson (#17), Bubba Watson (#4), Ángel Cabrera (#119)
Two of them have two majors, while Lefty has five. But some people think that this may represent Mickelson's last "best chance" to win that elusive U.S. Open title — and the career Grand Slam.
GROUP 15, 8:17 a.m. (1): Henrik Stenson (#6), Francesco Molinari (#43), Brandt Snedeker (#30)
The big Swede is the highest-ranked player in the bunch, but both the Italian and the American have displayed flashes of brilliance in the past. It is not inconceivable that any of these three can display the tenacity and patience needed to win a major — especially on a frustratingly difficult layout like Chambers Bay.
GROUP 16, 8:17 a.m. (10): Dustin Johnson (#7), Adam Scott (#12), Sergio García (#8)
The Spaniard burst onto the scene in 1999 and has starred in many Ryder Cups — but is still without a major championship. The Australian triumphed at Augusta National after a close call at the Open Championship. Even then, fans are wondering if he can win one last time with a broomstick putter — and whether he can ever be a factor again after the ban on anchored putting next year. The tall, lanky American suffered a penalty-laden finish at Whistling Straits a few years back. Having cleaned up his life, D.J. now seems better-prepared to break through in the majors, having won a WGC at Doral.
GROUP 18, 8:28 a.m. (10): Martin Kaymer (#19), Gunn Yang (amateur, #1212), Rory McIlroy (#1)
The defending U.S. Open champion, the defending U.S. Amateur champion from South Korea, and the world's number-one. Yang is not expected to win, but he stands to gain a lot of experience playing alongside two of golf's marquee stars. The gallery following this group should be overwhelmingly huge.
GROUP 41, 2:17 p.m. (1): Jordan Spieth (#2), Jason Day (#10), Justin Rose (#5)
The J-Crew. Spieth (the reigning Masters champion) is the biggest challenger to McIlroy's dominance, of course, but Rose himself is the 2013 U.S. Open champion from Merion. Five of his seven professional victories are quite prominent: The Memorial and the AT&T National in 2010, the 2011 BMW in the playoffs, and the 2012 WGC-Cadillac at Doral. Jason Day is the world's #10, and has played consistently over the last three years, despite a nagging thumb injury. He won the 2014 WGC-Match Play, as well as this year's Farmers at Torrey Pines.
Day is this writer's "non-dark horse dark horse" this week.

Leaderboard

Groupings
Have you seen an interesting golf story? Tell us about it!
Image via Instagram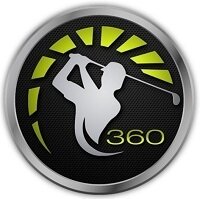 vespercreative100 says:
It's exciting to see a bunch of new faces coming to the golfing field. Especially if you're a sports lover, athlete, or just simply a golf-enthusiast, it's a great chance to see some of the most amazing golfers in the country. Moreover, I think what will make it all interesting is that every once in a while, some new faces come forth as protegies, so I can't wait to see them play. Get
essay on time reviews
from their native writer who are are provided professional materials.
3/20/18
carlm21 says:
Our school had the trip to a golf match and it was pretty amazing. After which we started to have interest in golf. Now my younger brother is asking me for a golf kit as he has got the chance to play for the school golf team. I have bought him the kit from Reecoupons,
Click here
7/3/18
photoshoponline88@gmail.com says:
I was checking continuously this blog and I'm impressed! Very useful information particularly the last part
driving directions
8/27/18
neosofia16 says:
This is a great stimulating article. I am pretty considerable pleased with your respectable work. You put certainly very cooperative evidence. Keep it up. Keep blogging. Observing to interpretation your next post click here
online leather jacket store
for most usable celebrities out fit in very some easy steps.
9/27/18
maitrishah1 says:
Its a great pleasure reading your post.Its full of information I am looking for and I love to post a Its a great pleasure reading your post.Its full of information I am looking for and I love to post a
free gift card generator
and
free gift code generator
and
free gift code generator
and
10/27/18
ducklife says:
The 115th American Open champions many famous golfers. Thank you for sharing this information. I will watch the matches of the tournament.
fnaf world
12/11/18
christeenajohn says:
I'm interested in playing golf game and also try to read all the updates of this game. This site is helpful for me to
Private Paris Tours
get all the new updates and also shared the details of the national championship. Thanks for this article.
1/25/19
jackwillaim2211 says:
I'm really impressed about the info you provide in your articles. I must say am highly overwhelmed by your whole story. It's not easy to get such quality information online nowadays. I look forward to staying here for a long time.
Best Regards -
norton.com/setup
4/24/19
shubham says:
Here is the free guide for helping the user
trouble tank
between a Bluetooth device and system having windows 10.
8/7/19