2015 U.S. Open, Day 1: Everything is new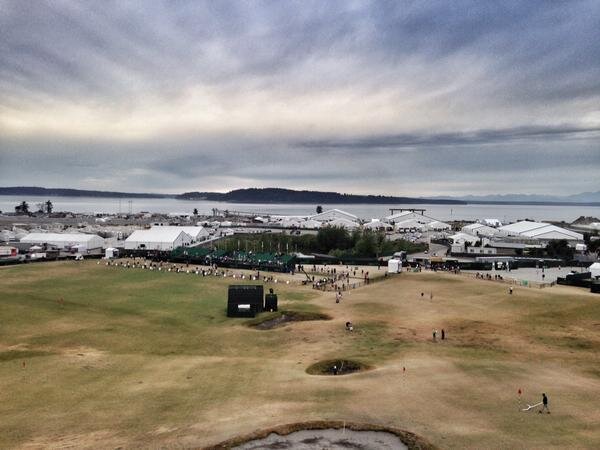 Since the first ball went in the air at 7:00 a.m. PDT Thursday morning, so many things about the U.S. Open are new.
Not only is Chambers Bay Golf Course new, but the flexibility, the setup options, and especially the look and feel of the course. Unlike the lush green carpet blanketing Augusta National, Chambers Bay looked starkly different on television. In fact, it looks more like an Open Championship venue than anything else. The greens have the appearance of... well, green oatmeal: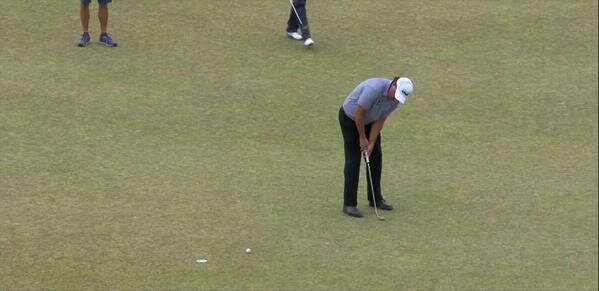 Fox television contributing analyst Tom Weiskopf described Chambers Bay as not a "true" links course because of the 200-foot elevation changes along the way. Weiskopf, the winner of the 1973 Open Championship at Troon, said that the overall terrain of true links courses tend to be much flatter.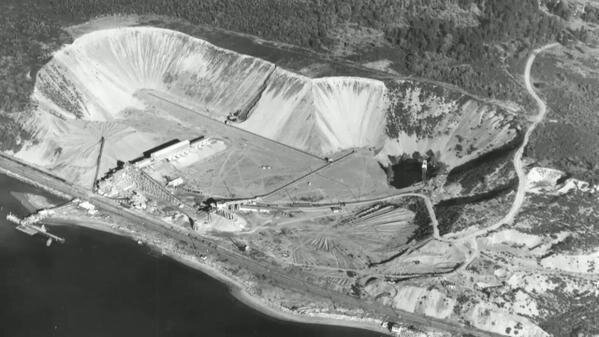 But this course was built on the size of a former gravel mine. So, over the course of a round, competitors at Chambers Bay are essentially climbing a 20-story building over 18 holes. Of course, that fact makes this course even more physically, emotionally, and mentally taxing and challenging. Depending on how tightly Mike Davis and his USGA crew turn the proverbial screws on this course, this will make Chambers Bay an even more punishing test than it would otherwise be under the already-daunting U.S. Open pressure.
Because the greens have a mixture of fine fescue and
poa annua
grasses, they appear far different on television than other courses' greens. Making things even more challenging for players is that as the day goes on, the fescue "goes to sleep," while the
poa annua
erupts, making putting (and scoring) much bumpier for the afternoon starters.
But today, the start times will be reversed, meaning that the men who suffered mightily on Thursday afternoon have something of a chance of getting more benign scoring conditions on Friday morning.
The problem for them is that United States Golf Association Executive Director Mike Davis may choose to toughen up the course after
Dustin Johnson
and
Henrik Stenson
— morning starters on Thursday — both shot (-5) 65. Johnson in particular had several memorable shots, including a magnificent recovery from deep fescue, shown at 2:10 in the video below:
Johnson was calm, even-keeled, and effective along the way. With only one bogey on Thursday at the 9th; his 65 was a model of consistency.
Stenson did not have the same good fortune on his opening nine, bogeying 6 and 9, but he birdied 2, 3, and 7 to turn in (-1) 34. The big Swede found a groove on the closing nine, notching birdies at four of the final five holes. Incidentally, Stenson was one of the cynics and critics of the course setup this week.
Patrick Reed
is alone in third after an impressive 66. One shot behind him in a tie for fourth is a trio of two pros —
Matt Kuchar
and
Ben Martin
— and amateur
Brian Campbell
, who just concluded his collegiate golf career at the University of Illinois Urbana-Champaign. Campbell suffered a double-bogey at 7 and two bogeys, but found a way to take seven birdies from the rest of Chambers Bay and carve out a 67.
Not far behind
A log-jam of seven players are tied for seventh place, including American
Cody Gribble
, who recovered from a seemingly-disastrous early triple-bogey to shoot 68, along with Scotsman
Marc Warren
and five very well-known quantities: Dutchman
Joost Luiten
, Italy's
Francesco Molinari
, Aussie
Jason Day
, and two more Americans —
Jordan Spieth
and
Jason Dufner
.
How the mighty have fallen
Tiger Woods
shot 80 — his worst-ever single-round score in a major championship. So wayward were his shots that at the 602-yard par-5 8th hole, his club hit something awfully firm in the ground. His ball advanced into more rough, but his club sailed backward — albeit without any damage.
Woods begins Friday at the bottom of the leaderboard, tied for 152nd with American
Alex Kim
. Only
Rickie Fowler
(+11, 81) and
Rich Berberian, Jr.
(+13, 83) scored worse than Woods on Thursday.
In pursuit of the career Grand Slam
Phil Mickelson
, a six-time runner-up at this national championship, got off to an excellent start, canning birdies at 3, 5, and 8 to turn in (-3) 32. But after the turn, Lefty suffered three bogeys at 10, 13, and 14. An excellent approach at 11 to below the hole, followed by a 12-footer for birdie kept him in red figures and in the hunt with a (-1) 69.
The putter sputters
The world number-one,
Rory McIlroy
, was excellent off the tee and from the fairway, by any standard. But the Northern Irishman simply could not get many putts to fall. When he wasn't pulling putts to the left of the hole (as he did at 7 and 9), he was pushing them to the right. At (+2) 72, he is in a 28-way tie for 51st.
Unlike Woods, McIlroy is within seven shots of the lead after one round and still has a perfectly good chance to make the cut.
The golf debut of Fox Sports
The new television home of the USGA in the United States, Fox Sports debuted their U.S. Open coverage at noon EDT with their lead baseball and football announcer Joe Buck, paired with World Golf Hall of Fame member Greg Norman. As could be expected with a major debut, the announcing still requires some polish, mostly from Buck. He
could
do some work to sound less like he's calling a football game, but that should come along with time and experience.
Norman was quite good, as would be expected, as were many of the rest of the Fox analysts. However, they still need to disabuse themselves of referring to hole locations and flagsticks as "pins." They also need to stop referring to the ridges, crowns, and plateaus on the greens as "humps" or, even worse, "hogbacks" — a far more banal term that is, frankly, beneath the dignity of a major championship. In this respect, the Fox announcers would do well to follow the examples set by their CBS counterparts when describing the Masters Tournament.
At least they haven't referred to the U.S. Open spectators as "a mob," which Jack Whitaker once did.
As on Thursday, Fox Sports begins their television coverage on their cable outlet in the morning, followed by their national over-the-air network in prime time: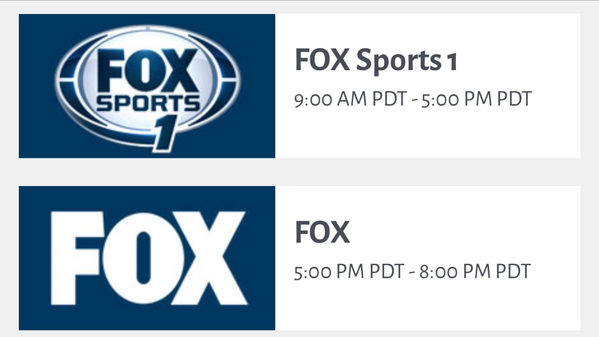 On Friday:
Mike Davis and the USGA have plenty of hole locations close to the edges of the greens.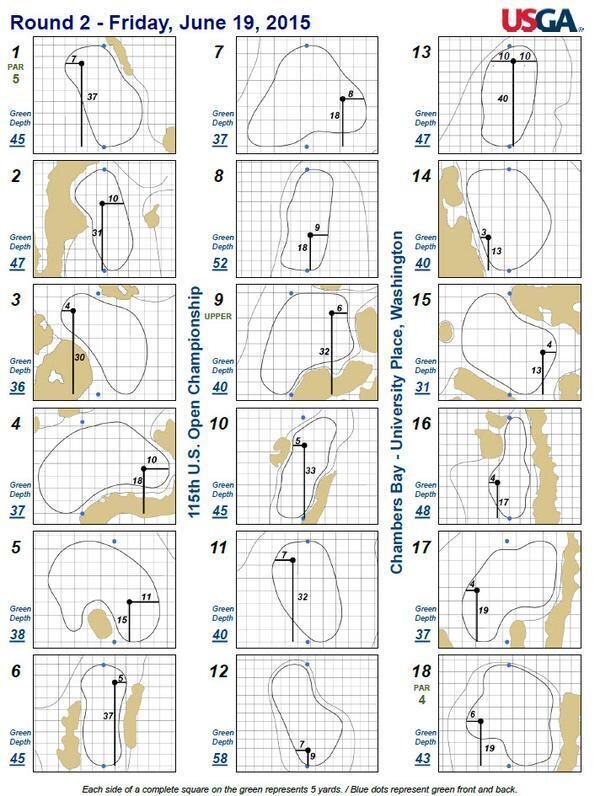 Nothing will be easy today, for sure.

Leaderboard

Groupings
Have you seen an interesting golf story? Tell us about it!
Images via Twitter, Twitter, Twitter, Wikipedia