The following instructions are to initiate a Remote Support session with SkyGolf Advanced Technical Support. Advanced Technical Support is available from 3:00 am - 10:00 pm 7 days a week! We recommend utilizing this support method with high-speed internet connections only. Dial-up connections may yield exceptionally long support times and are not guaranteed to be successful. You may wish to print these instructions for easy reference.
Steps to initiate a remote support session (please save and close all open programs on your computer):
(1) - Please
CLICK HERE
NOTE: If you are unable to click the link, simply type "https://support.skygolf.com/" in a web browser.
The following screen should then appear as seen below: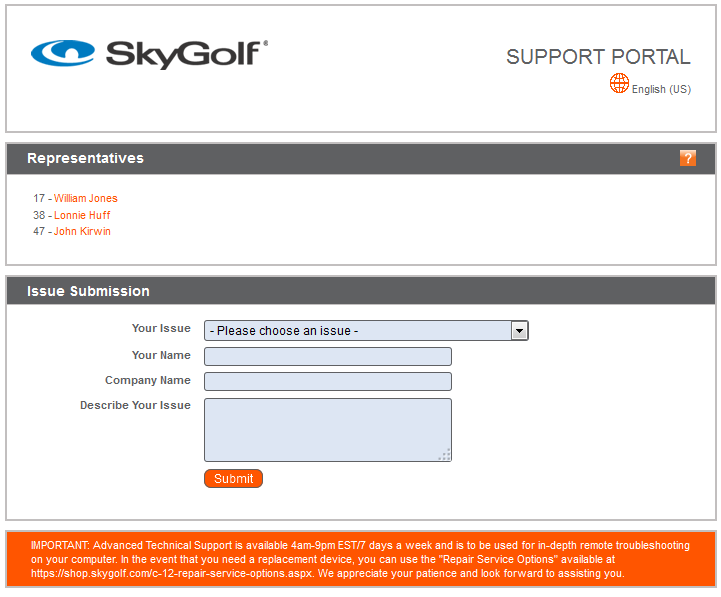 (2) - Choose an issue from the drop down menu in the "Your Issue" field (Apple Mac Users is for general Mac support, PC Users is for general Windows support)
(3) - Enter your name in the "Your Name" field.
(4) - Enter the Ticket ID [Example: 001-00-xxxxxx] found in the subject line of this email. Also include a short description of the issue.
(5) - Click "Submit" to download a required support file (filename starts with Bomgar) then open the file according to which web browser you are using:
Internet Explorer:
Look along the very bottom of your Internet Explorer web browser for the Internet Explorer option to "Run or Save" the file, and press Run.
Firefox:
Select "Save" from the Firefox prompt, then press the arrow icon (pointing down) in the top right hand side of your Firefox web browser to view your Firefox downloads. Double-click the most recent downloaded file starting with the word Bomgar.
Chrome:
Look toward the very bottom left-hand corner of your Chrome browser for the downloaded file starting with the word Bomgar, then click on it to open the file.
Safari:
Press the arrow icon (pointing down) in the top right hand side of Safari to view your Safari downloads (You can also press View in the top left hand corner of Safari, then Show Downloads). Open the most recent downloaded file starting with the word Bomgar.
(6) - A Customer Agreement will appear. Select I have read and agreed to the terms above then press "OK" to allow our Advanced Technical Support to remotely connect with your computer.
(7) - The chat window is titled "Bomgar Support Customer Client", which is used to directly communicate with our representatives. It will connect with our system and say "A secure encrypted SSL connection has been established" which lets our Advanced Technicians know you are awaiting assistance. Please wait for the chat window to say "This session has been transferred to" and "You are now chatting with" followed by the representative's name.
Security Notice:
Remote Support session traffic is fully encrypted to protect your system's data. Every session is recorded for quality purposes.
Browser Notice:
The web browser instructions given for Internet Explorer, Firefox, Chrome, and Safari are courtesy, the web browsers are not owned by SkyGolf, and operating steps can be changed by the respected developer at any time.