TaylorMade - R9 460
---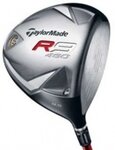 R9 460
-
TaylorMade
The R9 460 Driver features TaylorMade's Flight Control Technology (FCT), which lets you change the face angle, loft and lie. This means total adjustability to promote up to 40 yards of side-to-side trajectory change. In addition, this classically shaped 460cc driver also features Inverted Cone Technology for maximum forgiveness on off-center hits, a deeper back CG (center of gravity) for an easy-launching position and a super high MOI (moment of inertia).

Add To My Bag





mantukarlo
- 9/27/23
VN is a simple to-utilize and free video altering application with no watermark. The natural connection point simplifies video altering, with no earlier information required.
The
One of the most outstanding arcade rounds of its time Tekken 3 is currently accessible on the android stage. Its designer Namco didn't initially send off the versatile application rendition.





nyrans2000
- 7/31/23
Logic Fleet Service Center is the best place to take your car. Our techniLogic Fleet Service Center is the best place to take your car. We know the importance of reliable parts and accessories for your vehicle because we work on cars and trucks daily. We're dedicated to offering our customers with all the expert services you could need, including a
car diagnostic specialist in Dublin
.





divids
- 6/16/23
the
Download Arceus X
development team has exciting plans to launch versions compatible with iOS and Mac platforms in the near future. Leveraging the
Hydrogen Download
, Arceus X incorporates a comprehensive selection of powerful libraries that enhance the execution process





Watson54
- 5/24/23
The TaylorMade R9 460 is a true game-changer in the world of golf equipment. Its innovative design and advanced technology make it a standout choice for golfers of all levels. The 460cc clubhead provides an impressive combination of forgiveness and distance, allowing for powerful and accurate shots. The adjustable loft and face angle options further enhance customization and tailor-fit the club to individual preferences. You should try
custom avatars
to create your own avatar as a golf player. With the R9 460, TaylorMade has truly created a masterpiece that revolutionizes the way we approach the game of golf.





EstrellaWelch
- 10/6/22
After trying out the R11, I found that the R9, with its XS shaft and 8.5 loft, was a much better option. I am able to direct where the ball goes and even manipulate its trajectory. The class that was the most challenging for me is now the one I look forward to the most.
drift boss





birchrundoc1
- 5/9/11
I tried out the R11 and R9 is way better than the R11. XS shaft and 8.5 loft. I can control the trajectory and even draw the ball. My most difficult course is my most favourite course now.





anthonywoodruff
- 10/3/10
I like this Driver better than the R7. I get more control and better distance





Knightly
- 8/21/10
absolutly amazing, put the super deeps RIP x stiff shaft in the r9 460 head and god the ball goes straight and miles, makes golf easy
Number of Users: 766
Average Handicap: 13.5
Overall:





Value:





Look:





Performance: