John Letters - T9+
---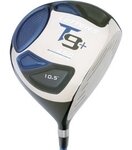 T9+
-
John Letters
The body of the oversize head of the John Letters T9+ driver has been crafted from strong 6-4 Titanium, making it super-lightweight, which has allowed the John Letters designers to use discretional weighting. This state-of-the-art technology places more weight in the heel and toe areas for maximum forgiveness and stability on off centre strikes.
Available in RH in 9.5°, 10.5°, 13°, and 15° lofts.
Available in LH in 10.5°, 13°, and 15° lofts.

Add To My Bag





jon1959
- 4/30/13





jaynkay
- 10/7/12





mr speighty
- 2/21/11





Dazinkster
- 5/24/10
Number of Users: 7
Average Handicap: 12.6

Overall:





Value:





Look:





Performance: