TaylorMade - R11S
---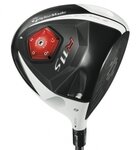 R11S
-
TaylorMade
The R11S is bigger, faster, and more adjustable than the original R11 driver. A 460-cc matte-white finished head is mated to a five-sided ASP plate, while the FCT sleeve permits loft adjustments to ±1.5º. Movable weights permit adjustment of the CG to promote a draw or neutral ball-flight.
Available in 9.0º, 10.5º, and 12.0º (RH only) lofts with D4 swingweight.

Add To My Bag





patsm00re18
- 6/5/20
I bookmarked this item!
https://justbuildlol.io/





reyped
- 7/16/17





terrafirma311
- 4/20/17





ajrousak@earthlink.net
- 4/7/17





cbarrow2727
- 3/19/17





Aylesbury
- 3/2/17





Ktop1
- 1/14/17





pio2020
- 7/29/16
Number of Users: 958
Average Handicap: 13.2
Overall:





Value:





Look:





Performance: