SeeMore - Si2 Nickel
---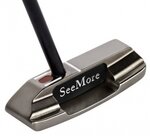 Si2 Nickel
-
SeeMore
Si2 is a classic heel/toe blade with a slightly back of center shaft design. Si2 is the straight shaft option, featuring 3/4 toe hang, and Si2w is the offset version featuring 1/4 toe hang.
HEAD WEIGHT: 360 g
MATERIAL: 340 stainless steel
OFFSET: None
TOEHANG: ¾
HOSEL TYPE: Off center-shaft
HAND: RH only
LENGTHS: 30" to 37"
LIE: 68° - 74°
LOFT: 2.5°

Add To My Bag





koolken53
- 10/29/13





jimmyd50
- 1/10/13





Pann
- 9/17/12





bigDmoney
- 10/4/11





NickPane
- 7/22/11





wugolfer3118
- 6/24/11





jehavas
- 5/21/11





Speiler
- 3/25/11
Number of Users: 7
Average Handicap: 7.3

Overall:





Value:





Look:





Performance: