Odyssey - Metal-X 2-Ball
---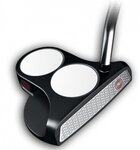 Metal-X 2-Ball
-
Odyssey
Introduced in 2012, the Metal-X putters feature a steel head with a black, non-glare finish and an inner urethane layer for soft feel. The aluminum oval face-pattern is designed to lock with the golf ball's dimples at impact, creating friction and imparting consistent roll.
The Metal-X 2-Ball is a variation of Odyssey's famous 2-Ball putters and features a double-bend shaft.
OFFSET: Half-shaft
WEIGHT: 350 g
LENGTHS: 33", 34", 35"
LOFT: 3°
LIE: 70°

Add To My Bag





cjmccarthy2
- 7/31/16





JB#1
- 6/5/16





Buntysesh
- 4/21/14





hdwash78
- 11/23/13





lydo
- 11/8/13





viper1bw
- 8/17/13





ljp3
- 8/5/13





merlinpqp
- 7/26/13
Number of Users: 38
Average Handicap: 14
Overall:





Value:





Look:





Performance: