SkyCaddie - SG4
---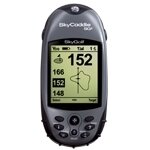 SG4
-
SkyCaddie
The SG4 automatically calculates up to 40 targets per hole, simultaneously, in less than a second. It features a large, backlit, grayscale display and can store 10 full-featured courses at one time with our advanced course management features like Hazards, Carries and Layups, and IntelliGreen®. The SG4 comes with a built-in rechargeable lithium battery, which is good for up to 14 hours of continuous play.

Add To My Bag





Kitipong Chaisri
- 8/15/13
Seem to be my device can't connect to the system.
I can't connect my SG4 for SYNC I'm not sure my cable was broken?
Anyone have problem like me?





Dicyapperson
- 4/22/13
Overall the SG4 is a great rangefinder and helps my game especially the distance to hazards, washes, etc. but must take a star off for the screw connector and having to buy another that is no better than the 1st one. like the comment about countersinking the screw, thanks Varment 7/18/11...additional comment...don't try to counter sink screw as there are copper wires in the head that cause the cable to be nonfunctional when hit!





regstang2009
- 3/22/13
I had my SG4 since May 2009. I have not fixed or replaced anything. Works like its suppose to.I just want it for the yardages.





drfig
- 1/14/13
Had my unit since 2006! When it works, it is fine. i particularly like it for those off shots where yardage is beyond a guess. Also like distance to hazards. Ability to move cursor around a plus. Since day 1 it has been slow to locate satellites, often requiring a gps reset several times. there is a dance you do in the middle of the fairway holding the unit at just the right angle. A bit touchy when interacting with computer.





Golffrog2
- 9/11/12
I had the problem with the stripped screws. Went to the local hardware store with large metric screw selection, and purchased a longer screw. Must use a small screwdriver, but works fine.





chiromaco171
- 6/14/12
Stripped screw problem. I removed the screw, (screw will unscrew out of connector) shaved the back of the connector where the screw inserts with a razor blade to narrow thickness of adapter. This enabled the screw to insert further into the screw hole and take hold. works fine. Love my SG4.





hey putz
- 11/1/11
works great, no problems connecting the usb cord, really helps my game





Steph123
- 9/29/11
I'v had my SG4 for a couple of months now never had any difficulty in using it. Been A1 from the start...
Number of Users: 1,266
Average Handicap: 13.8
Overall:





Value:





Look:





Performance: